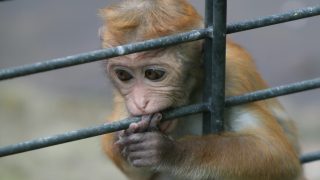 Breeding Facility Forces Illegal, Gruesome Surgeries on Pregnant Monkeys at Florida Compound
In experiments that sound straight out of the dark ages, Hendry County, Florida's Primate Products, a monkey-breeding facility supposed to be restricted to breeding monkeys, has instead been performing crude surgeries on pregnant animals for profit. The whistle on these horrifying and illegal mutilations has been blown by former Primate Products vet tech David Roebuck. In a local news station exposé, Roebuck alleged that workers at the facility—not licensed veterinarians trained to perform surgeries—were cutting fetuses out of pregnant monkeys so that the company could sell the dead fetuses and the lactating mothers' milk to pharmaceutical companies.
Roebuck, who quit in disgust after just two days, saw deep freezers filled with the dead fetuses' freeze-dried organs. He reported that Primate Products had contracts with several biopharmaceutical companies to sell the organs and milk.
Hendry County is ground zero in ALDF's legal battle on behalf of local residents demanding public input before yet another primate compound goes up in their backyards. In 2014, the county improperly shut landowners and citizens out of the decision-making process, in violation of Florida's Sunshine Law, when it approved the construction of a new primate facility behind closed doors. The county argues that, like Primate Products, the facility known only as "SoFlo Ag" qualifies as "agriculture" and thus, requires no public notice or meeting under County zoning rules.
Hendry County is poised to address Primate Products' disturbing departure from the zoning code this week. But it begs the question, does primate organ harvesting at a compound servicing the biopharmaceutical industry sound anything like "agriculture" to you? ALDF and concerned residents emphatically say, "NO!"
Despite growing public outrage and objections from local leaders, Hendry County has never addressed residents' concerns regarding SoFlo Ag's threats to their safety, public health, property values, and the character of their neighborhoods—threats worsened by the recent news of a biohazard breach involving the spread of deadly bacteria at another high-security federal primate compound in nearby Louisiana.
Hendry County's flimsy promise to citizens that no research will be conducted at the SoFlo Ag facility rings hollow in light of the Primate Products revelations. If the County doesn't even know what is going on at its oldest and most established primate "breeding" facility, what assurance can residents have that it is equipped to police the activities of a shadowy shell company whose owners' true identity is apparently unknown even to county officials, let alone to the neighbors who would be forced to live next door to SoFlo Ag's new monkey compound?
And organ-selling or not, these facilities are not agriculture and do not belong in the backyards of quiet rural communities. ALDF will be further investigating Primate Products' horrific and cruel activities, and will continue to fight on behalf of local residents for transparency about what's really going on with innocent animals in their own backyards.
Related
On March 23, 2023, Judge Julie Rubin of the federal district court in Maryland issued a decision, ruling that the United States Department of Agriculture (USDA) acted unlawfully by denying a petition for rulemaking to improve the standard for the psychological well-being of primates in research

Animal Legal Defense Fund files motion for summary judgement with damning evidence against the university

Today the Delaware County district court granted a motion for contempt filed by the Animal Legal Defense Fund against Cricket Hollow Zoo and its owners, Pamela and Thomas Sellner, seeking the whereabouts of more than 100 animals who "disappeared" prior to a court-ordered rescue.