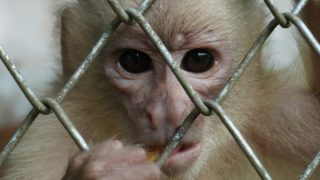 Animal Legal Defense Fund to Appeal "Monkeygate" Ruling
Animal Group Alleges Hendry County Violated Procedure in Approving Breeding Facilities
For immediate release:
Contact:
media@aldf.org
LABELLE, Fla. – The Animal Legal Defense Fund, the nation's preeminent legal advocacy organization for animals, today filed a Notice of Appeal indicating its intent to appeal the Twentieth Judicial Circuit of Florida's July 8, 2016 ruling in the "MonkeyGate" case. The lawsuit, filed by the Animal Legal Defense Fund on behalf of local landowners, alleged that Hendry County recently permitted the SoFlo Ag and Panther Tracts primate breeding facilities—for the purpose of breeding laboratory test subjects—without public notice or meetings, and thereby violated the state's Sunshine Law which requires transparency in government decision-making. The court ultimately found that the county's approval of the primate breeding facilities was not illegal because the county had historically approved similar facilities in the early 2000s.
The Animal Legal Defense Fund is appealing the July ruling, alleging that Hendry County staff engaged in legislative policy-making subject to the requirements of the Sunshine Law when they decided to approve primate breeding facilities as "animal husbandry" for agricultural zoning purposes. "Animal husbandry" is plainly defined as raising only domestic animals, and does not include primates or other exotic animals. Because the historic approval of similar facilities in the early 2000s also occurred in violation of the Sunshine Law, that historic precedent cannot justify Hendry County's more recent approvals of the SoFlo Ag and Panther Tracts facilities. The appeal will be heard by the Florida Second District Court of Appeal.
"The Sunshine Law exists precisely because decisions as important as whether to open primate breeding facilities should not take place behind closed doors," says Animal Legal Defense Fund Executive Director Stephen Wells. "The citizens of Hendry County have a right to know what their government is doing and a government that follows the law."
Related
The Ninth Circuit Court of Appeals affirmed the district court's ruling that Naruto lacked statutory standing to sue under the federal Copyright Act.

These controversial experiments terrorize baby monkeys by exposing them to stressors like snakes and threatening human strangers.

Residents of Cook County: Take action now to urge the County Board of Commissioners to uphold its duty to the public and release the full report immediately.