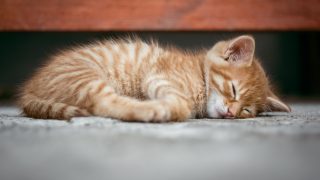 Animal Legal Defense Fund Offers $5,000 Reward in Case of Kittens Thrown from Vehicles in Craven County
Reward for information leading to the arrest and conviction of the person or people responsible
CRAVEN COUNTY, N.C. — The Animal Legal Defense Fund, the nation's preeminent legal advocacy organization for animals, is offering a $5,000 reward for information leading to the arrest and conviction of the person or people responsible for throwing kittens out of moving cars and abandoning them near Neuse River Bridge over the course of the last month.
Since early June there have been several kittens found near Neuse River Bridge and the intersection near Highway 70 with injuries consistent with road rash. There have also been eye witness reports of kittens being thrown from moving vehicles in this area. Multiple kittens have been recovered and treated for their severe injuries. Due to eye witness reports and the frequency of finding the abandoned animals, the Craven County Sheriff's office believes it is unlikely that each kitten's injury was a result of falling out of the vehicle after voluntarily crawling under the axel or fender, and is instead an act of cruelty. There is at least one suspect in this ongoing issue.
In North Carolina, it is a Class H felony to maliciously maim or kill an animal. The maximum penalty is up to 25 months in prison, a court determined fine, or both.
"Research shows a strong link between animal cruelty and other crimes and violent acts, threatening the safety of both humans and animal in the community," said Animal Legal Defense Fund Executive Director Stephen Wells.
Sheriff Hughes ensures "There will be zero tolerance for animal cruelty in Craven County."
If you have information related to this incident, please contact the Craven County Sheriff's Office at (252) 636-6620 or the Craven County Animal Cruelty Investigator at (252) 636-6631.
Related
A Courtroom Animal Advocate Program (CAAP) bill, S.2868/A.4533, which would allow law students and volunteer lawyers to advocate for animal victims in cruelty criminal cases, unanimously passed the New Jersey Senate. The bill is sponsored by Senator Nicholas Scutari and Assemblyman Raj Mukherji and endorsed by the Animal Legal Defense Fund.

Breeding operation, Adorable Stars, sells parasite-ridden kittens suffering from severe and fatal ailments

Animal protection advocate and actress Kim Basinger sent a letter to Craigslist CEO Jim Buckmaster with an urgent request the company end all animal posts on its platform.