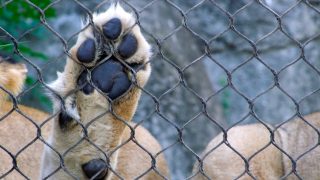 Animal Legal Defense Fund Lawsuit Shuts Down Inhumane Pennsylvania Roadside Zoo
Animals are moved to rescue facilities.
For immediate release:
Contact:
media@aldf.org
SCRANTON, Pa. – The notorious Animaland Zoological Park in Wellsboro, Pennsylvania has closed in response to the March 2016 lawsuit filed by nonprofit Animal Legal Defense Fund, the nation's preeminent legal advocacy organization for animals, with pro bono assistance from Partner John W. Caldwell and Associate Brian L. Saunders, members of the Intellectual Property Group of the law firm BakerHostetler in Philadelphia. The group filed the suit on behalf of concerned local residents against the roadside zoo and its owners, James P. Melko, Jr. and Kathleen H. Melko, for violating the Endangered Species Act (ESA) and state wildlife laws by failing to provide adequate care for animals confined at the facility.
The lawsuit focused on Bear, a gray wolf, and Baby, a Siberian tiger, both listed as endangered under the Endangered Species Act.  Bear, a member of an inherently social species, was housed alone in a small concrete cell. The suit also alleged that the treatment of additional animals—including two black bears Shawn and Sandy, a bobcat, an arctic fox and three capuchin monkeys—violated Pennsylvania State Game Commission regulations requiring the humane treatment of captive wildlife.  Animaland had repeatedly failed to meet even the most minimal requirements for proper care of animals under the federal Animal Welfare Act, and inspection reports from the U.S. Department of Agriculture revealed more than 60 violations in recent years.
After being served with the lawsuit, Animaland shut down operations, and the Animal Legal Defense Fund helped ensure the animals were relocated to appropriate new homes that are capable of meeting their needs.
Bear the wolf was safely transported to Wolf Sanctuary of Pennsylvania, where he can finally experience the companionship of other wolves and feel the earth beneath his paws. Shawn and Sandy, the two black bears, are in the process of being transported by Lions Tigers & Bears, to their new home at the Wildlife Rescue and Rehabilitation in San Antonio, Texas. Baby the tiger and the other animals have been moved to a wildlife rescue facility in Pennsylvania.
"The animals at Animaland were suffering, and the zoo was breaking the law," says Stephen Wells, executive director for the Animal Legal Defense Fund. "We are happy to have helped these long-suffering animals find habitats that meet their needs as wild animals, and we are relieved that they are finally free from their cramped and dilapidated quarters at Animaland."
"Gandhi is reported to have said the greatness of a nation…can be judged by the way its animals are treated," said John Caldwell of BakerHostetler. "If this is true, then we have advanced our culture, at least somewhat."
The Animal Legal Defense Fund has several other Endangered Species Act lawsuits currently pending before federal courts, including a lawsuit on behalf of Lucky the elephant, who lives at the San Antonio Zoo in Texas, and Candy the chimpanzee, who lives alone at the Dixie Landin' amusement park in Baton Rouge, Louisiana.
Related
Animal Legal Defense Fund continues work to protect endangered species as Minnesota-based facility that displayed wolves and sold their furs agrees to settle lawsuit

Lawsuit alleges the government has unlawfully weakened protections for threatened and endangered species

Endangered animals including lions, tigers, and gray wolves suffer in squalid conditions at Special Memories Zoo.