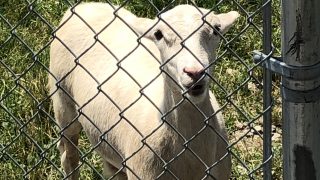 Animal Legal Defense Fund Lawsuit Shuts Down Florida Backyard Slaughter Operations
Court rules slaughter operations violate state animal cruelty and slaughter laws
Contact: media@aldf.org
Fort Myers, FL – Today a court ordered multiple illegal backyard slaughter operations outside of Fort Myers, Florida to shut down.
In 2018, on behalf of a neighbor who runs a produce stand near the backyard slaughter operations, the Animal Legal Defense Fund, the nation's preeminent legal advocacy organization for animals, and Foley & Mansfield, Miami filed a nuisance lawsuit against the slaughter operations for violating state animal cruelty and slaughter laws. Exposed by animal protection organization Animal Recovery Mission, these operations tortured animals and endangered public health by illegally slaughtering the animals, including horses, in filthy conditions and then selling the meat for human consumption.
This victory not only protects the many animals who suffer in backyard slaughter operations but also marks one of the first times in the country where a private citizen presented violations of animal cruelty and humane slaughter laws to demonstrate that animal abusers are a public nuisance – and used a civil lawsuit to enjoin the violations.
"Backyard slaughter operations inflict extreme pain on animals, including horses, chickens, and pigs, before illegally slaughtering them," says Animal Legal Defense Fund Executive Director Stephen Wells. "Today's decision is not only important for the animals tortured at backyard slaughter operations but affirms that Floridians have a pathway to enforce their state's animal cruelty laws."
Workers at operations have been documented stabbing squealing pigs and skinning animals while they are still kicking. Conscious animals, including pigs and goats, are dragged to slaughter by their heads, tails, and ears, often using large metal hooks. The Florida Humane Slaughter Act mandates animals be unconscious or rendered insensitive to pain prior to slaughter. It also prohibits people from shackling or hoisting animals with the intent to kill without first rendering the animal insensitive to pain.
The animals confined at these operations, including horses and pigs, had been neglected and deprived of food, water, and veterinary care to the point that starving and thirsty animals lapped up the blood of others who had been recently slaughtered.
A copy of the judgment is available upon request.
Related
Animal Legal Defense Fund filed a false claims lawsuit against Holden Farms. Allegations include violating federal and state laws banning "garbage feeding" and state animal cruelty law.

Cows were killed in Madison, Brazos, and Robertson Counties, Texas.

The U.S. Court of Appeals for the Fourth Circuit handed an important win to plaintiffs in a lawsuit challenging North Carolina's Ag-Gag law, ruling that undercover investigations and whistleblowing are considered newsgathering activities protected by the First Amendment.
Help animals win the legal protections they so desperately need and deserve, and ensure they have an advocate in courtrooms and legislatures across the country.
Take Action Now