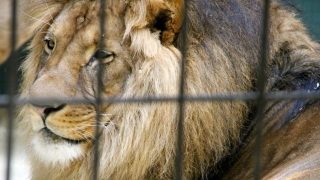 Animal Legal Defense Fund Intervenes in Cal OSHA Lawsuit after Lion Kills Worker; "Cat Haven" Settles
Lion Mauling Leads to the Protective Barrier Requirement Long Sought by Animal Groups
For immediate release:
Contact:
media@aldf.org
Dunlap, Calif. — Last week, on January 6, a legal settlement brought conclusion to the tragic and fatal mauling of a zoo employee at Cat Haven Zoo, a 100 acre facility west of Kings Canyon National Park. The national nonprofit Animal Legal Defense Fund (ALDF) in the legal battle between the California Division of Occupational Safety and Health Administration (Cal OSHA) and Project Survival (which runs Cat Haven), eventually resulting in approval of Cal/OSHA's new requirement of physical barriers between humans and large cats at the facility. That decision corresponds with an increased call from the advocacy groups like the Animal Legal Defense Fund for physical barrier requirements, including at theme parks like the controversial SeaWorld and Miami Seaquarium which have also seen fatal injuries from captive animals.
On March 6, 2013, 24-year-old Dianna Hanson, a volunteer intern at Cat Haven, was in a large exercise enclosure (possibly on the telephone according to media reports) when a 550lb 4-year old lion named Cous Cous broke Dianna's neck with a swipe of his paw. The Fresno County coroner determined that Dianna was deceased by the time the young lion began to toss Dianna's body about his enclosure.
Cal OSHA oversees worker safety regulations for the state and issued a special order on May 10, 2013, requiring improved worker safety measures. Despite its claims of concern for worker safety, Cat Haven appealed that special order. ALDF moved to intervene in the proceeding on October 23, 2013, and Cal OSHA granted ALDF's motion on November 15, 2013. After a year of preparing to fight over the order, Cat Haven recently agreed to add the physical barriers with "positive stops, locks or bolts" to settle the case. Cat Haven also agreed to keep a standby keeper at the worksite anytime somebody enters a large cat enclosure, provide safety training for workers, and keep a fire extinguisher near entry doors to use as a distraction during emergencies. The settlement was approved by the agency on January 6, 2015.
"The captive animal exhibition industry is already problematic for animal welfare," said Stephen Wells, executive director for the Animal Legal Defense Fund. "At minimum, there should be a physical barrier between humans and dangerous animals, at all times, for the safety of both."
Copies of the settlement are available by request.
Related
The lawsuit alleges federally endangered and threatened animals such as the tigers, lions, and ring-tailed lemurs are receiving inadequate care at Tiger Creek

Thanks to Animal Legal Defense Fund supporters, a tiger named Nila, two lions — Buddy and Missa, two ring-tailed lemurs, a Mikado pheasant, a military macaw, and a blue-and-gold macaw will at last have access to species-appropriate habitats and enrichment.

The Act has authority to protect federally endangered and threatened animals such as the tigers, lions, and ring-tailed lemurs enduring inadequate treatment at Tiger Creek