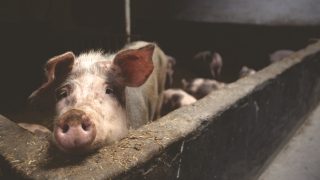 Animal Legal Defense Fund Calls On Feds to Hold Factory Farms Accountable for Superbug Health Crisis
Animal Legal Defense Fund Files FOIA Request for Data Used in New Plan to Fight Antibiotic-Resistant Bacteria
For immediate release:
Contact:
media@aldf.org
SAN FRANCISCO — In response to the Obama administration's March 27 announcement of a National Action Plan for Combatting Antibiotic-Resistant Bacteria, the national nonprofit Animal Legal Defense Fund (ALDF) has filed a Freedom of Information Act request for public records from the Secretaries of Health and Human Services, Agriculture, and Defense, to investigate research used in developing the plan. Medical experts—from the Food and Drug Administration to the World Health Organization to the Centers for Disease Control—have suggested that "sub-therapeutic" use of antibiotics in animal agriculture is a dangerous misuse of these drugs and poses a wide-scale human health crisis. Despite the major role animal agriculture plays in the spread of antibiotic-resistant bacteria known as "superbugs," the plan does not require the industry to stop dosing healthy animals with antibiotics.
Under the Freedom of Information Act, ALDF has requested records including:
Congressional testimony, public comments, emails, reports, expert affidavits, scientific studies, and memoranda used to develop the national plan.
Communication with industry lobbyists regarding content and debate of goals and outcomes.
Communication with the animal agriculture lobby, including the Cattlemen's Beef Board, National Pork Board, National Chicken Council, American Egg Board, Animal Agricultural Alliance, and others who may have influenced the direction of the national plan.
Sharing these records may significantly impact the public's understanding of the link between antibiotics in farmed animals and human health, a connection increasingly coming under serious public scrutiny.
Scientific studies suggest that antibiotic-resistant E. coli and salmonella likely originate from farmed animals given antibiotics at "sub-therapeutic" levels intended to prevent, rather than treat, illnesses. Factory farms routinely administer antibiotics to farmed animals to prevent diseases in high-density, unsanitary confinement and to more cheaply speed animal growth on less feed. Nearly 80% of antibiotics sold in the U.S. are fed to farmed animals at sub-therapeutic levels.
"The National Action Plan for Combatting Antibiotic-Resistant Bacteria allows factory farms to continue routinely feeding animals antibiotics despite the extreme public health risk," said Stephen Wells, executive director of ALDF. "Essentially, the government is placing the bottom line of industrial agriculture over the health and well-being of people and animals."
A copy of ALDF's FOIA request is available upon request.
Related
Animal Legal Defense Fund and CAARE continue work to protect animals used in research

Animal protection coalition wins important victory in fight to restore animal welfare databases

Earlier this year, a court ordered the U.S. Food and Drug Administration (FDA) to release previously redacted information relating to hen living conditions on several factory egg farms. Our request sought inspection reports of factory egg farms in Texas.