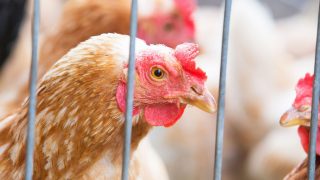 Animal Legal Defense Fund Announces Resolution in Egg Labeling Lawsuit Against Handsome Brook Farm
Third-party auditors will monitor Handsome Brook's egg purchases and farm practices for 18 months
Contact: media@aldf.org
WASHINGTON, D.C. – Today the Animal Legal Defense Fund announced that they reached an agreed-upon resolution in their lawsuit against Handsome Brook Farm on behalf of the Organic Consumers Association. The following is a statement from the parties:
Handsome Brook Farm and the Organic Consumers Association (OCA) today announced that they have resolved a consumer-protection action OCA filed against Handsome Brook in the Superior Court of the District of Columbia on August 29, 2016, concerning Handsome Brook Farm's "Pasture Raised" egg labels. The organizations have also resolved a lawsuit filed by Handsome Brook against OCA.
The OCA's action alleged that some of Handsome Brook Farm's eggs labeled as "Pasture Raised" were, in fact, from producers not engaged in pasture-raising hens, and that some farms within Handsome Brook's own farm network did not live up to its internal standards for pasture raising. Handsome Brook acknowledges shortcomings identified by OCA, including limited out-of-network purchases of organic eggs from producers in late 2015 and early 2016 that did not meet its pasture-raising criteria.
In the intervening period, Handsome Brook Farm has come under new management that has developed an internal auditing and supply chain management program and is committed to ensuring the origin and compliance of its "Pasture Raised" eggs. As part of this commitment, any future purchases of eggs from outside its own network will be from trusted partners who also meet American Humane Association standards for pasture-raised eggs.
Handsome Brook Farm has joined OCA in making a commitment to protecting consumers and holding producers accountable for their labeling and advertising. To demonstrate this commitment, Handsome Brook Farm has agreed to implement additional third-party auditing, in coordination with OCA, for 18 months. This oversight will be conducted on a quarterly basis by an independent auditor who will review Handsome Brook's purchase-and-sale records, as well as records from Handsome Brook Farm's network of egg farmers. This additional review of Handsome Brook's operations will help ensure that it remains an honest producer and marketer of pasture-raised eggs.
OCA and Handsome Brook are pleased to have reached this resolution, which they believe will help bring greater uniformity of standards in the market for pasture-raised eggs and help achieve their goals of changing the food system to provide high-quality, humanely raised, and truthfully labeled food.
Organic Consumers Association was jointly represented by the Animal Legal Defense Fund and Richman Law Group.
Related
D.C. Superior Court Denies Handsome Brook's Motion to Dismiss, Finding Suit Adequately Alleges Company's False "Pasture-Raised" Claims.

Consumer and animal protection advocates allege eggs do not meet consumer expectations.