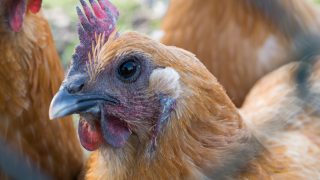 Egg Retailer Handsome Brook Farm Sued Over Accuracy Of Pasture-Raised Labeling
Consumer and Animal Protection Advocates Allege Eggs Do Not Meet Consumer Expectations
For immediate release:
Contact:
media@aldf.org
WASHINGTON, D.C. — The Animal Legal Defense Fund, the Organic Consumers Association (OCA), and The Richman Law Group announced the filing of a lawsuit in D.C. Superior Court against egg retailer Handsome Brook Farm, on behalf of OCA. The lawsuit alleges Handsome Brook Farm has been selling eggs labeled as "pasture raised" that fall far short of consumer expectations for this term—thus violating the D.C. Consumer Protection Procedures Act. The misleading labels also undercut the market for truly pasture-raised eggs.
Handsome Brook Farm claims all its eggs come from family farms in its distribution network, but with the rapid growth of the privately owned company, the suit alleges the company has failed to maintain the standards reflected in its packaging and is sourcing eggs from supplier farms that provide limited indoor space and outdoor access for birds. The suit alleges Handsome Brook Farm has even bought eggs on the open market, without regard for whether they came from pasture-raised hens.
While the American Humane Association (AHA) touts Handsome Brook Farm as a 100 percent pasture raised American Humane Certified™ egg provider, there are concerns regarding the thoroughness of the AHA audit of Handsome Brook Farm suppliers. And when the company purchases eggs in the open market for resale, of course, there is no guarantee they are American Humane Certified. Handsome Brook Farm has been reaping a windfall on these falsely labeled eggs, to the detriment of consumers and competitors.
"There is raised awareness about the treatment of animals in the food industry, and consumers are willing to pay higher prices for more humane eggs," says Animal Legal Defense Fund Executive Director Stephen Wells. "It is vital that labels accurately represent the products, so that consumers know what they are supporting with their dollars."
"Consumers have the right to expect that food labels will accurately reflect the ingredients and the production methods described by those labels," said OCA International Director, Ronnie Cummins. "When corporations make false claims on their packaging, consumers are deceived, and honest producers are cheated. It's our job to call them out, on behalf of consumers."
Related
The U.S. Court of Appeals for the Fourth Circuit handed an important win to plaintiffs in a lawsuit challenging North Carolina's Ag-Gag law, ruling that undercover investigations and whistleblowing are considered newsgathering activities protected by the First Amendment.

Public interest coalition celebrates another win against unconstitutional statute barring undercover investigations at factory farms

Edie Falco narrates the Animal Legal Defense Fund film demanding transparency in factory farming