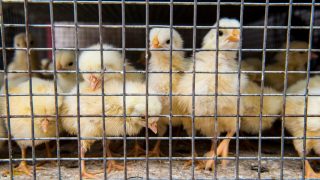 False Egg Labeling Case Against Handsome Brook Farm Can Proceed, Court Rules
Contact: Patricia Jones, Animal Legal Defense Fund, media@aldf.org
D.C. Superior Court Denies Handsome Brook's Motion to Dismiss, Finding Suit Adequately Alleges Company's False "Pasture-Raised" Claims
WASHINGTON, D.C. — The Animal Legal Defense Fund, the Organic Consumers Association (OCA), and The Richman Law Group today announced that the D.C. Superior Court has denied egg retailer Handsome Brook Farm's motion to dismiss OCA's lawsuit against it, allowing the case to move forward. The lawsuit, filed in August 2016, alleges Handsome Brook Farm has been selling eggs labeled as "pasture raised" that are not, in violation of the D.C. Consumer Protection Procedures Act (DCCPPA).
In denying Handsome Brook's motion to dismiss, the court ruled that OCA had alleged sufficient facts to support its claim that Handsome Brook violated the DCCPPA by misrepresenting its eggs as "pasture-raised," rejecting Handsome Brook's argument that OCA failed to adequately describe the alleged unlawful conduct. The court did order the consumer advocacy group to amend its complaint to disclose the date on which it purchased the Handsome Brook products from a D.C.-area grocery store.
The lawsuit stems from Handsome Brook's claims, on its cartons and in a wide-ranging advertising blitz, that all its eggs are exclusively "pasture-raised" and meet the company's standards for animal husbandry. OCA contends that the company has failed to maintain the standards reflected in this marketing and instead has sourced eggs from supplier farms that would not meet a reasonable consumer's expectation for "pasture-raised" eggs. Handsome Brook's false and deceptive marketing takes unfair advantage of humane-minded consumers, according to the complaint, and takes market share away from legitimately "pasture-raised" egg brands, harming the general public.
"Companies must be held accountable for attracting consumers with false claims of humane animal care," says Animal Legal Defense Fund Executive Director Stephen Wells. "We look forward to moving on with the case and vindicating the rights of purchasers to accurate information about the way eggs are produced."
"As consumers become more informed about how food quality and food production affect their personal health, and the health of the environment, they rely on labels to help them choose products that reflect their values," said Ronnie Cummins, OCA's international director. "The Court made the right decision in allowing the case against Handsome Brook to proceed. Corporations must not be allowed to mislead consumers by misrepresenting the ingredients in a product, or the methods by which the product was produced."
Related
The U.S. Court of Appeals for the Fourth Circuit handed an important win to plaintiffs in a lawsuit challenging North Carolina's Ag-Gag law, ruling that undercover investigations and whistleblowing are considered newsgathering activities protected by the First Amendment.

Public interest coalition celebrates another win against unconstitutional statute barring undercover investigations at factory farms

Edie Falco narrates the Animal Legal Defense Fund film demanding transparency in factory farming