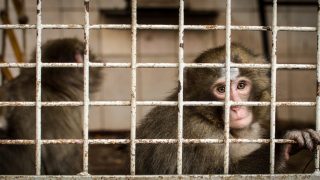 Animal Legal Defense Fund Amends Lawsuit after County Approved Second Monkey Breeding Facility
Facility for Monkeys Known to Carry Ebola, Other Diseases Approved in Violation of State Public Accountability Law
Contact: media@aldf.org
La Belle, FL — Today, the national nonprofit Animal Legal Defense Fund amended its complaint in its lawsuit against Hendry County after learning the county excluded local residents from the decision to approve a second monkey breeding facility. Animal Legal Defense Fund's lawsuit was filed in November 2014, after the county approved the SoFlo Ag primate breeding facility in closed-door conferences in violation of the state's "Sunshine Law."
Animal Legal Defense Fund amended the complaint after learning that Hendry County engaged in the same covert dealings when it greenlighted a new monkey breeding facility in Immokalee. This facility will be operated by Mauritius-based company Bioculture on property leased from Panther Tracts, LLC.
The Panther Tracts site is also home to Primate Products, Hendry County's first primate breeding compound, already home to up to 1,800 wild and imported primates.
The addition of the Bioculture facility will bring thousands more exotic and imported primates to property immediately adjacent to the ecologically sensitive Big Cypress National Preserve.
Local residents are alarmed at the prospect of disease-carrying monkeys escaping from the Bioculture facility. Possession of nonhuman primates like macaques is regulated by federal and state agencies due to threats of disease posed by these animals, including Ebola, Herpes B, tuberculosis, and parasites. Long-tailed macaques were responsible for an outbreak of the "Reston" strain of the Ebola virus at a Virginia research facility—detailed in the bestseller The Hot Zone—and a tuberculosis outbreak.
Escaped exotic monkeys, and the waste produced by thousands more animals on the Panther Tracts property, could also damage the fragile ecosystem of the Big Cypress National Preserve, which is already struggling with an invasion of non-native Burmese pythons.
Animal Legal Defense Fund is asking the Twentieth Judicial Circuit for Hendry County to revoke the County's approval of the SoFlo Ag and Bioculture facilities as a result of its failure to hold mandatory public hearings.
On March 5, 2015, Circuit Judge James Sloan denied the County's motion to dismiss Animal Legal Defense Fund's suit, allowing the Plaintiffs to continue to seek their desired relief from the County. Animal Legal Defense Fund amended complaint seeks to stop the County from foisting any more illegally permitted monkey breeding compounds on its unsuspecting residents.
Related
Animal Legal Defense Fund files motion for summary judgement with damning evidence against the university

Today the Delaware County district court granted a motion for contempt filed by the Animal Legal Defense Fund against Cricket Hollow Zoo and its owners, Pamela and Thomas Sellner, seeking the whereabouts of more than 100 animals who "disappeared" prior to a court-ordered rescue.

The Iowa Court of Appeals ruled in favor of plaintiffs represented by the Animal Legal Defense Fund in a lawsuit against Cricket Hollow Zoo for violating state animal cruelty laws following an appeal of the court's 2019 decision.