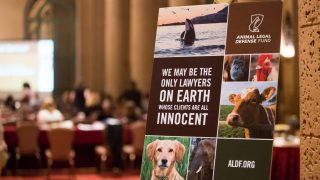 Speakers for Virtual Animal Law Symposium 2022
Virtual Animal Law Symposium 2022
Friday, April 29 – Saturday, April 30, 2021
Speaker Bios
Renee Callahan
Executive Director
Animal Road Crossing (ARC) Solutions
Renee Callahan has over 30 years of professional and legal experience in federal, state and administrative law, policy and research. As Executive Director for ARC Solutions, Renee leads an interdisciplinary not-for-profit partnership of transportation and wildlife agencies, universities, non-governmental and charitable organizations working to ensure wildlife crossing structures are built wherever they are needed. In addition to raising awareness about proven solutions to reduce wildlife-motorist conflict and reweave natural landscapes, Renee spearheads ARC's work to foster innovation in the placement, construction, and design of the next-generation of wildlife infrastructure.
Nicholas Fromherz
Adjunct Professor & Latin American Program Director
Global Law Alliance for Animals and the Environment, Lewis & Clark Law School
Nick Fromherz serves as Latin American Program Director for the Global Law Alliance for Animals and the Environment (the Global Law Alliance), a collaboration launched in the fall of 2020 between the Center for Animal Law Studies and the Environmental Law Program at Lewis & Clark Law School. The Global Law Alliance is a champion for wild animals and wild spaces across the globe, working to protect animals and the environment through the development, implementation, and enforcement of international law. Law students (JD and LLM) actively participate in the work through two clinics within the Alliance.
Prior to joining the Global Law Alliance, Nick worked as an attorney for a public-interest law firm dedicated to conserving marine wildlife around the world. Combining this experience with his considerable time living and working in Latin America, Nick expands the Global Law Alliance's footprint in the Americas while building on its existing fisheries program and international wildlife practice.
Previously, Nick served as a Visiting Assistant Professor, teaching courses within Lewis & Clark's Environmental, Natural Resources, and Energy Law program. Since 2015, Nick has taught Administrative Law at Lewis & Clark Law School during several summer sessions as an Adjunct Professor.
Nick's scholarship has appeared in the Stanford Environmental Law Journal, the Washington University Global Studies Law Review, the Ecology Law Quarterly, the West Virginia Law Review, Administrative Law Review, and Animal Law Review. In addition, he has written a number of shorter opinion pieces – with a particular focus on Latin American political and environmental issues – in outlets like Foreign Affairs and the International Policy Digest.
Before transitioning to environmental work, Nick served as a litigation attorney for a law firm in California and spent three years clerking for federal judges (Judge Lawson of E.D. Mich. and Judge Terence Evans of the Seventh Circuit). Nick graduated as the valedictorian of his law-school class. Nick is a member of the IUCN World Commission on Environmental Law.
Away from work, Nick enjoys spending time with his family, reading, watching college sports, and exploring Bolivia's wild spaces. Nick works for the Global Law Alliance primarily from his home office in Bolivia.
Kathy Hessler
Clinical Professor of Law and Animal Law Clinic Director
Center for Animal Law Studies at Lewis & Clark Law School
Kathy Hessler is a clinical professor of law at Lewis & Clark Law School. She is the first faculty member hired to teach animal law full time in a law school. She received her J.D. from the Marshall-Wythe School of Law at the College of William and Mary and her LL.M. from Georgetown University Law Center. She is the Director of the Animal Law Clinic and the Aquatic Animal Law Initiative, as well as the faculty advisor for the Student Animal Legal Defense Fund and Animal Law Review at Lewis & Clark.
Professor Hessler co-authored Animal Law in a Nutshell (with Pamela Frasch and Sonia Waisman), Animal Law – New Perspectives on Teaching Traditional Law (with Joyce Tischler, Pamela Hart, and Sonia Waisman) and the amicus briefs submitted in the U.S. v. Stevens and Justice v. Gwendolyn Vercher cases. She has written numerous law review and other articles and teaches and lectures widely across the U.S. and internationally and is working on a new book, Aquatic Animal Law.
Professor Hessler was a board member with the Animal Legal Defense Fund; helped found the Animal Law Committee of the Cuyahoga County Bar; was the chair and a founder of the Animal Law Section and the Balance in Legal Education Section of the American Association of Law Schools (AALS). She was also a co-chair of the Clinical Legal Education Section of the AALS and is on the board of the Center for Teaching Peace.
Amy P. Wilson
Executive Director
Animal Law Reform South Africa
Amy P. Wilson is the Executive Director and co-founder of Animal Law Reform South Africa, the first dedicated animal law non-profit in the country. She is an attorney and researcher focusing on the intersection of the rights of humans, nonhuman animals and nature in law, and policy and creative approaches to the attainment of an inclusive system of justice. Amy is an Independent Expert with the United Nations in Harmony with Nature Programme and a visiting Research Associate with the University of Johannesburg. She was the first South African to graduate with a master's degree in animal law and leads a number of animal protection organizations throughout Africa. Amy has worked as a Aquatic Animal Law Initiative Fellow and with the Animal Law Clinic at Lewis & Clark Law School in Portland, Oregon. Amy has worked as the Brooks Institute Animal Law and Policy Fellow at UCLA's Animal Law and Policy Program and with several animal nonprofits in the USA. She is working on a number of research and writing projects, including co-authoring a book on aquatic animal law. From May 2022, Amy will be co-teaching the first animal law course in South Africa.
Dr. Michelle Lute
National Carnivore Conservation Manager
Project Coyote
Michelle Lute is the National Carnivore Conservation Manager for Project Coyote overseeing the organizations programs and campaigns across the country. Michelle Lute is a conservation scientist and advocate with fifteen years' experience in biodiversity conservation on public and private lands around the globe. She dedicates her professional life to promoting human-wildlife coexistence through effective public engagement, equitable participatory processes, and evidence-based decision-making.
Born the daughter of a fourth-generation farmer in the Great Lakes, Michelle's love for all things wild began at the fringes of human-dominated landscapes. From cornfield to classroom, her explorations of human interactions with non-human animals instilled an enduring belief that compassionate coexistence is not only possible but essential for our increasingly hot, hungry, and crowded world.
Following her curiosity to scientific pursuits in Southeast Asia, South America, and Madagascar, Michelle holds a PhD in social ecology from Michigan State University, an MS in animal behavior and ecology from the University of Notre Dame, and a BS in geography and environmental science from Valparaiso University. She started her environmental career in the National Park Service, worked for large and small non-profits, and held research positions at universities across the US, including Indiana University, University of Nebraska, and Texas State University. Most recently, she served as Wildlife Conservationist at the New Mexico State Land Office where she fought for biodiversity protections across nine million acres of the fourth-largest state in the lower 48.
Across her career in academic, government, and non-profit sectors, the common thread throughout Michelle's work is developing solutions to challenging human-wildlife issues. As is often the case, so-called human-wildlife conflicts are more about disagreements between humans and thus solutions require an interdisciplinary approach. Michelle has authored more than 30 publications in ecology and social science disciplines to develop evidence-based approaches to human-wildlife coexistence. She has successfully ended the use of lethal tools in locales across the American West and documented strong public and expert support for coexistence. Michelle also dedicates time to roaming wild public lands with her two dogs and one human, and when not in quarantine, chasing live music and adventures abroad.
Alicia Prygoski
Senior Legislative Affairs Manager
Animal Legal Defense Fund
As Senior Legislative Affairs Manager, Alicia Prygoski works to develop and advance the Animal Legal Defense Fund's legislative campaigns at the local, state, and federal levels.
Before joining the Animal Legal Defense Fund, Alicia worked as a public policy coordinator for farmed animal protection at the Humane Society of the United States and as a policy associate at the Animal Welfare Institute. At both organizations she worked to enhance legal protections for farmed animals across the country and contributed to passing a ballot initiative in Massachusetts and legislation in Rhode Island banning the extreme confinement of animals in factory farming operations.
Alicia has a Bachelor of Arts in Environmental Policy from the University of Michigan and a law degree from Western Michigan University-Cooley where she founded and ran the school's Animal Legal Defense Fund student chapter. In 2016 she received the Wanda A. Nash Award from the State Bar of Michigan Animal Law Section for advancing animal law in the state.
She now lives in Washington D.C. with her husband Luke and Patches, her rescue dog who can't contain his excitement when meeting new people and other dogs.
Dr. Rajesh K. Reddy
Animal Law Program Director, Center for Animal Law Studies at Lewis & Clark Law School
Dr. Rajesh K. Reddy leads CALS' Global Animal Law Program, which includes bold new initiatives such as the Global Ambassador Program, that leverages the expertise, training, and skills of CALS' international Animal Law LLM alumni to foster and facilitate animal protection initiatives in their home countries and regions. Dr. Reddy also leads the Animal Law LLM Program—the world's first and only advanced legal degree program for animal law. The courses he currently teaches include: International Animal Law; Animal Legal Philosophy; Introduction to U.S. Animal Legal Studies; and the Animal Law LLM Seminars each fall and spring semester.
Dr. Reddy also serves on the Lewis & Clark tri-campus Committee on Equity and Inclusion, the Law School's Diversity, Equity and Inclusion and International Law Committees, and as a Confidential Advocate. Outside of Lewis & Clark, he chairs the International Subcommittee of the Animal Law Section of the American Bar Association and also serves as a board member for Minding Animals International. He has previously sat on the Executive Committee for the Animal Law Section of the Oregon State Bar and as a board member for Humane Voters Oregon and the diversity, equity and inclusion nonprofit Encompass.
Prior to joining the Center for Animal Law Studies, Dr. Reddy earned his JD from Lewis & Clark Law School and his PhD from the University of Georgia, where his dissertation scrutinized the representation of human and nonhuman animals in postcolonial literature and rights discourse. While in law school he served as Co-Editor in Chief of the Animal Law Review and Co-Director of the Animal Legal Defense Fund Student Chapter at Lewis & Clark. He has advanced human and nonhuman animal rights as part of his work for several nonprofits, including the Animal Legal Defense Fund's Criminal Justice Program and the Human Rights Law Network in New Delhi, India. Prior to pursuing his legal career, Dr. Reddy served as an Associate Instructor at Indiana University and as a Writer-in-Residence at Interlochen Center for the Arts.
Tanya Sanerib
International Legal Director
Center for Biological Diversity
Ms. Sanerib currently advocates for wildlife using the Center for Biological Diversity's unique brand of international advocacy that combines innovative domestic litigation with more traditional international policy work. Before joining the Center in 2012, she was a staff attorney with the Crag Law Center in Portland, Oregon, and a partner at the public-interest law firm Meyer Glitzenstein & Eubanks in Washington, D.C. Ms. Sanerib has extensive experience practicing in federal court focusing on environmental, animal welfare, and open government matters under numerous different laws but with an emphasis on the Endangered Species Act. She also advocates for wildlife at CITES and other international fora in an effort to stem the ongoing extinction crisis and protect species great and small for future generations. Ms. Sanerib earned her law degree from Lewis & Clark Law School and received a bachelor's in environmental science from Colorado College.
Kathleen Schatzmann
Strategic Legislative Affairs Manager
Animal Legal Defense Fund
Kathleen has been a successful leader in animal protection with over 15 years of government affairs and public policy experience. She has successfully managed numerous animal protection initiatives, working in cross-functional roles to create innovative practices to overcome campaign objectives and challenges.
Before joining the Animal Legal Defense Fund, Kathleen worked as NJ Senior State Director for the Humane Society of the United States where she worked to strengthen animal protection laws on the local, state, and federal level. She has establishing strong relationships with policy makers and influencers which led to the passage of numerous animal protection laws – including the nation's first ivory ban. Kathleen continues to collaborate with the animal protection community to work in a unified fashion.
Her previous achievements include serving on the Governor appointed NJ Animal Welfare Task Force, as Board Member for the NJ Animal Welfare Federation, Board Member for the Monmouth County SPCA, Board Member for People For Animals, chair of the New Jersey-based Protecting Animal Welfare PAC, and advisor to NJ Voters For Animals.
Kathleen and her husband are incredibly proud parents of their two children and share their home with their beloved blind Basset, Momo and cage-free lovebird, Birdie.
Zak Smith
Senior Attorney & Director, International Wildlife Conservation
National Resources Defense Council
Zak Smith focuses on protecting some of our most iconic species, such as whales, dolphins, and polar bears, from the numerous threats that endanger their health and drive them toward extinction. His work preserving wild animals and wild spaces involves environmental and sustainability issues, including climate change, resource conservation, and ocean pollution. Smith holds a bachelor's degree from the University of California, Berkeley, a master's from Johns Hopkins University, and a law degree from the University of California, Los Angeles. He is based in Santa Monica.
Zack Strong
Senior Staff Attorney, Terrestrial Wildlife
Animal Welfare Institute
Zack Strong is a senior staff attorney with the terrestrial wildlife program of the Animal Welfare Institute (AWI). He works on a variety of wildlife issues, including fur farming, trapping, international trade, conserving threatened and endangered species, and promoting human-wildlife coexistence. Prior to joining AWI, Zack worked as a wildlife advocate with the Natural Resources Defense Council and practiced civil litigation with a private law firm. He is based in Bozeman, MT.
Dr. Bridgett M. vonHoldt
Associate Professor, Ecology & Evolutionary Biology
Princeton University
Dr. vonHoldt's research interests go beyond the scope of studying DNA variants and include other dimensions of the genome. The convergence of genome technologies and natural history hypotheses sets the stage for exploring traditional questions of behavioral ecology, population biology, and evolutionary history at multiple genomic levels. Dr. vonHoldt's research goal is to unravel genotype-phenotype evolution in both a naturally and artificially evolving species. Dr. vonHoldt is specifically interested in the interaction of natural history phenotypes (e.g. social status, pigmentation, disease, fecundity, mating strategy) and gene expression changes and their regulation via epigenetic variation. Chromatin modification, differential methylation, microRNAs, and transcription factor binding can all have a profound effect on gene expression, initiating/silencing transcription, the degree of transcript stability, and splicing.
Daniel Waltz
Managing Attorney
Animal Legal Defense Fund
As Managing Attorney for the Animal Legal Defense Fund, Daniel Waltz develops creative legal strategies to advocate for improved welfare and increased protections for animals. His work focuses on advocating for animals used in factory farming and for wildlife (both captive and wild).
Daniel first worked with the Animal Legal Defense Fund as a litigation fellow from 2012 to 2014. He then went on to spend two years as a staff attorney and teaching fellow at Georgetown University Law Center's environmental law clinic, and two years as a staff attorney at The Humane Society of the United States before returning to the Animal Legal Defense Fund litigation team where he first started.
Daniel has published scholarship in the Animal Law Review, Georgetown Environmental Law Review, and Columbia Journal of Environmental Law. He has a B.A. from Tufts University, J.D. from New York University School of Law, and LL.M in Advocacy from Georgetown University Law Center. Daniel is admitted to practice in Washington State and the District of Columbia. When he's not fighting for increased animal protections, he enjoys playing ultimate Frisbee, hiking, and riding his bike carrying his dog Tippy on his back.
This free, two-day online event will feature panels on wildlife protection.
REGISTER TODAY
Related
Companion, farmed, and wild animals have been lost, injured, or killed during fireworks displays

The California Court of Appeals affirmed a ruling by a lower court recognizing Society for the Prevention of Animal Cruelty (SPCA) organizations' ability to file lawsuits against entities that violate existing animal protection laws.

Reward for information leading to the arrest and conviction of the person or people responsible for illegally shooting and killing a red wolf in Tyrrell County, North Carolina.