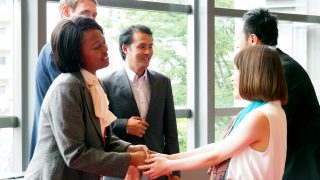 Animal Law Symposium 2015
Factory Farming: Impacts on Animals, Humans, and the Environment
A symposium presented by the Animal Legal Defense Fund and the USC Gould School of Law Student Animal Legal Defense Fund
Saturday, March 28, 2015
This marked the first symposium of the Animal Legal Defense Fund's Los Angeles regional attorney network. Attendees were presented with an informative daylong CLE focused on Concentrated Animal Feeding Operations (CAFOs)—aka "factory farms"—and their impacts on animals, humans, and the environment.
Top experts discussed the legal and grassroots strategies being used to challenge and change the harmful impacts of CAFOs. Speakers included: Carter Dillard, director of litigation at ALDF; Kathy Hessler, clinical director at Lewis & Clark Law School; Paige Tomaselli, senior staff attorney at Center for Food Safety; and Leslie Brueckner, senior attorney at Public Justice, among others.
Will Potter, journalist and author of Green is the New Red, and Ethan Brown, CEO of Beyond Meat, delivered keynote addresses.
Attorneys were eligible to receive CLE credits for attending. Law students, concerned citizens and other legal professionals were also welcomed.
Related
On May 21, 2016 the Animal Legal Defense Fund gathered experts in criminal animal cruelty cases for our second-annual Los Angeles symposium, Animal Cruelty Prosecution: Pitfalls and Progress.

On May 20, 2017 the Animal Legal Defense Fund hosted its third annual Animal Law Symposium in Los Angeles.

This free, two-day online event will feature panels on animal law and wildlife protection.