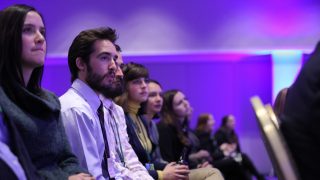 UCLA Animal Law Conference: Public Values in Conflict with Animal Agribusiness Practices
February 23, 2019 - 9:00 AM
to February 23, 2019 - 5:30 PM
Room 1347, Main corridor, UCLA School of Law
385 Charles E. Young Drive East
Los Angeles, California
90095
United States
Please join us at UCLA Law on Saturday, February 23, 2019, for consideration of topics relevant to animal agribusiness practices at odds with public values associated with animal protection, fair labor practices, and environmental protection. There will be three panels: one dealing with undercover investigations and the possibility for advocates in different social justice movements to coordinate or use reliable information from each other's investigations, another on labeling issues (including empirical research on whether consumers are confused by plant-based products labeled as "milk," labeling for marketing plant-based meat alternatives to consumers in India, and the use of lethal animal experimentation in the development and marketing of products labeled "vegan" and "plant-based), and a third panel on corporate agreements to engage in practices at a higher level of worker or environmental or animal protection than is required by law. This conference is free of charge and open to the public. Parking at UCLA is $12 for the day.
Contact Name:
Taimie Bryant
Contact Email:
alp@law.ucla.edu
Related
The Animal Legal Defense Fund is offering our assistance in investigating the death of a zebra who died after being left out in last week's record breaking subzero weather in northern Indiana. We also renew our call for stronger animal protection laws.

In January 2019, the National Council of Juvenile and Family Court Judges (NCJFCJ), in partnership with the Animal Legal Defense Fund hosted the first-ever formal judicial convening focused on animal cruelty cases.

Florida residents: Ask Representative Eskamani to sponsor the Florida Orca Protection Act.