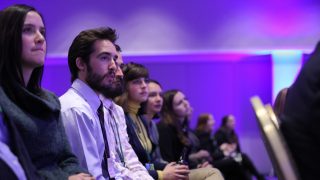 UCLA Animal Law Conference: Public Values in Conflict with Animal Agribusiness Practices
February 23, 2019 - 9:00 AM
to February 23, 2019 - 5:30 PM
Room 1347, Main corridor, UCLA School of Law
385 Charles E. Young Drive East
Los Angeles, California
90095
United States
Please join us at UCLA Law on Saturday, February 23, 2019, for consideration of topics relevant to animal agribusiness practices at odds with public values associated with animal protection, fair labor practices, and environmental protection. There will be three panels: one dealing with undercover investigations and the possibility for advocates in different social justice movements to coordinate or use reliable information from each other's investigations, another on labeling issues (including empirical research on whether consumers are confused by plant-based products labeled as "milk," labeling for marketing plant-based meat alternatives to consumers in India, and the use of lethal animal experimentation in the development and marketing of products labeled "vegan" and "plant-based), and a third panel on corporate agreements to engage in practices at a higher level of worker or environmental or animal protection than is required by law. This conference is free of charge and open to the public. Parking at UCLA is $12 for the day.
Contact Name:
Taimie Bryant
Contact Email:
alp@law.ucla.edu
Related
This week the Farm Bill was approved by the U.S. House and Senate. The bill includes important provisions that will protect animals, and most importantly, does not contain the King amendment.

This week, a coalition of organizations, led by the Animal Legal Defense Fund, filed a lawsuit challenging a 2016 decision by the U.S. Department of Agriculture (USDA) Farm Service Agency (FSA) to exempt some factory farms from critical environmental laws.

On Monday, Dec. 17, the Ninth Circuit Court of Appeals in San Francisco will hear oral arguments from the Animal Legal Defense Fund in the lawsuit against the USDA for removing tens of thousands of animal welfare records from the agency's website.