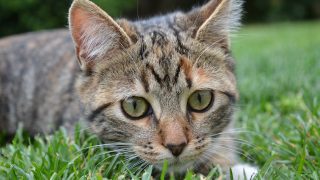 Animal Cruelty Prosecution Conference Aims to Train Prosecutors, Law Enforcement on Handling Animal Cruelty Cases Louisville to host professionals from around the country
Louisville to host professionals from around the country
Contact: media@aldf.org
Louisville, KY – More than 100 prosecutors, veterinary professionals, and law enforcement officials from across the country will be meeting in Louisville next week for the Eighth Annual Animal Cruelty Prosecution Conference. The event aims to train and inform professionals on the best ways to successfully identify and prosecute animal cruelty and animal fighting cases.
The three-day conference is co-sponsored by the Association of Prosecuting Attorneys and the Animal Legal Defense Fund, the nation's preeminent legal advocacy organization for animals. It will take place on Nov. 7 – 9, 2018 at the Brown Hotel in Louisville.
"Animal cruelty victims are voiceless so it is especially important for prosecutors, law enforcement, and allied professionals to be well-trained on how to successfully investigate, prosecute, and sentence animal cruelty crimes," said Stephen Wells, executive director for the Animal Legal Defense Fund. "The conference gives these professionals a chance to collaborate and find what strategies are most effective to keep all members of their communities – both human and nonhuman – safe."
"APA is proud to be a part of this training and the only national event of its kind. This event has a long track record of changing practices after bringing passionate and motivated prosecutors, investigators and veterinarians together to learn and collaborate on issues dealing with the prosecution of animal cruelty," said David LaBahn, president and CEO of the Association of Prosecuting Attorneys. "Prosecutors understand the importance of holding violent offenders accountable whether the victim is a human or animal. APA applauds the Animal Legal Defense Fund and its support and commitment to helping prosecutors and law enforcement tackle the issue of animal cruelty."
The event's agenda includes discussions on:
• The use of technology in investigating animal cruelty crimes
• The link between animal abuse and violence against humans
• How law enforcement can successfully investigate animal cruelty cases
• The role veterinarians play in identifying animal abuse
• Judges' perspective on animal cruelty cases
The conference is not open to the public, but conference participants will be available to members of the media for interviews.
Related
The Animal Legal Defense Fund, the nation's leading legal advocacy organization for animals, has tips for how you can make sure your companion animals sail through even the worst weather winter has to offer.

On an early August morning, 34 horses seized from a scene of severe neglect began their 107th day in state custody. Horse rescue volunteers had nursed the horses back to health, and ready to be adopted. But the horses needed one more thing...

The Animal Legal Defense Fund is offering our assistance in investigating the death of a zebra who died after being left out in last week's record breaking subzero weather in northern Indiana. We also renew our call for stronger animal protection laws.