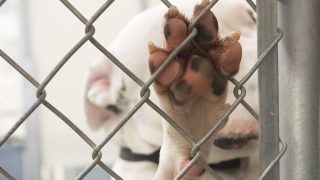 Animal Advocates Prevail Against Vallejo Puppy Mill Following Lawsuit
The Animal Legal Defense Fund will seek a permanent injunction to rescue any remaining dogs
Contact: media@aldf.org
San Francisco, CA — This week, the Superior Court of California in Solano County found the owner of California Carolina Dogs, a puppy mill located in Vallejo, liable for violating the Polanco-Lockyer Pet Breeder Warranty Act following a lawsuit filed by the Animal Legal Defense Fund on behalf of Caru SPCA. In the wake of this ruling the Animal Legal Defense Fund will seek a permanent injunction to remove any remaining dogs at the location.
The lawsuit was filed after numerous complaints citing strong odors, flies, dog bites, unsanitary breeding conditions, and dogs running at large. It is reported the breeder, located in a residential area, had as many as 50 dogs on the property at a time violating several Vallejo Municipal Codes.
"Puppy mills across the country often keep the animals in unsanitary and harmful conditions," says Stephen Wells, executive director of the Animal Legal Defense Fund. "The court's decision is an important step in our efforts to close down illegal breeders like California Carolina Dogs so they can't harm more animals both emotionally and physically."
The Animal Legal Defense Fund first filed a lawsuit on behalf of Caru SPCA against the operation in 2017 for illegally operating a puppy mill. The Animal Legal Defense Fund is grateful to have received pro bono services from Greenberg Traurig, LLP in this case.
Puppy mill operators maximize their profits by producing large numbers of puppies as quickly as possible. As a result, unsanitary conditions, disease, and neglect are rampant. Sign our pledge to boycott puppy mills. Together we can end cruel puppy mills.
Sign Petition
Related
As the Animal Legal Defense Fund combats dogfighting by working with state officials to create stronger laws and more effective penalties for those who engage in this crime, we're also hard at work to ensure the best possible outcomes for dogfighting victims.

The Animal Legal Defense Fund, the nation's preeminent legal advocacy organization for animals, and Humane Rescue Alliance (HRA) are offering a $10,000 reward for information leading to the arrest and conviction of the person or people responsible for the abandonment and stabbing of a senior-aged dog named Ladybell on July 12, 2020.

Today the Animal Legal Defense Fund announced a settlement agreement with the West Virginia State Police, State Trooper Seth Cook, and Colonel C.R. "Jay" Smithers, in a lawsuit filed after Tiffanie Hupp intervened when Officer Cook drew his gun and aimed it at the family dog, Buddy.