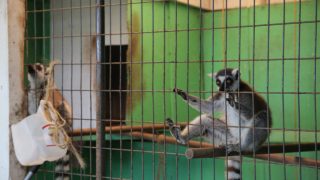 Animal Advocates Announce Intent to Sue Maryland Roadside Zoo for Violating Endangered Species Act and State Animal Cruelty Law
Deer Haven Mini Zoo faces lawsuit over animals suffering in illegal conditions
Contact: media@aldf.org
Baltimore, MD – The Animal Legal Defense Fund, the nation's preeminent legal advocacy organization for animals, served Deer Haven Mini Zoo in Keymar, Maryland with a notice of intent to sue the roadside zoo for violating the federal Endangered Species Act (ESA) and state cruelty laws. The Animal Legal Defense Fund based its notice of intent to sue on extensive video and photographic evidence, visitor observations, and U.S. Department of Agriculture inspection reports that indicate the animals at Deer Haven Mini Zoo are suffering in cruel conditions.
The notice letter offers to assist with the relocation of the animals to sanctuaries but cautions that the Animal Legal Defense Fund will file the lawsuit if illegal conditions persist.
"The Animal Legal Defense Fund has documented visibly sick animals, some without water in intense heat, and living in barren animal enclosures in severe disrepair with significant accumulations of feces and waste," says Animal Legal Defense Fund Executive Director Stephen Wells. "We hope Deer Haven Mini Zoo will cooperate with the Animal Legal Defense Fund to quickly move these animals to sanctuaries where they will receive the care they need."
Video footage reveals seriously ill animals, some vomiting and suffering from diarrhea. A mother arctic fox was filmed struggling to breathe or move while her pups walked around her. Multiple U.S. Department of Agriculture inspection reports identify numerous animals with injuries or in poor health including a bobcat, cavy, and coatimundi. Additionally, the facility itself is in poor condition, posing a public safety hazard. Multiple people have already been injured by animals at the roadside zoo.
Deer Haven Mini Zoo also houses endangered species, such as lemurs. Federal inspections cite the roadside zoo for multiple violations regarding the lemurs including the lack of an enrichment plan to promote the psychological well-being of the animals, which is mandatory for non-human primates under the Animal Welfare Act, and persistent sanitation issues around their enclosure. Red ants have been found in and around the lemurs' food supply, and there are fresh rat holes in their enclosure and throughout the zoo property.
The notice letter identifies both violations of the Endangered Species Act and the Maryland state criminal code, causing suffering of both endangered and non-endangered animals. The Animal Legal Defense Fund intends to file suit under both federal and state law.
Related
The Act has authority to protect federally endangered and threatened animals such as the tigers, lions, and ring-tailed lemurs enduring inadequate treatment at Tiger Creek

International Fur Trade Federation agreed to dismiss its appeal, ending case in decisive victory for animals

International Fur Trade Federation's amended complaints dismissed in decisive victory for animals