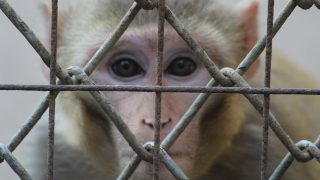 Animal Legal Defense Fund Case Challenging Hendry County's Approval of Primate Breeding Facilities Going to Trial
Trial Will Determine Legality of Closed-Door Approval Process for Facilities
Contact: media@aldf.org
LaBella, FL — The Animal Legal Defense Fund, the nation's preeminent legal advocacy organization for animals, today announced that its lawsuit challenging Hendry County, Florida's approval of development permits for two new primate breeding facilities, is headed to trial, after Judge James D. Sloan denied both parties' motions for summary judgment.
The lawsuit, on behalf of local landowners, alleges that the county's permitting of the SoFlo Ag and Panther Tracts primate breeding facilities in closed-door conferences, without public notice or meetings, violated the state's open government law, the Sunshine Law. ALDF looks forward to demonstrating the county's legal violation at trial and vindicating the rights of local landowners shut out of the government decision-making process on this crucial issue.
The SoFlo Ag and Panther Tracts primate breeding facilities would raise thousands of exotic macaques for sale to the biomedical research industry. The location of the SoFlo Ag facility, within a few hundred yards of family residences, threatens property values and residents' peaceful enjoyment of their homes.
The proposed primate facilities could also pose a public health danger because of deadly infectious diseases the monkeys can carry; the risk of monkeys escaping; and threats to the surrounding ecosystems and water quality. Moreover, investigations have revealed horrendous conditions for monkeys at other Hendry County primate breeding facilities, including cruelty and neglect.
"The Animal Legal Defense Fund looks forward to laying out the facts documenting the county's illegal conduct at trial," said Animal Legal Defense Fund Executive Director Stephen Wells. "The county clearly violated the Sunshine Law by quietly approving these wild primate facilities in back-door meetings without notice or a public meeting, despite their far-reaching and serious impacts."
Related
On March 23, 2023, Judge Julie Rubin of the federal district court in Maryland issued a decision, ruling that the United States Department of Agriculture (USDA) acted unlawfully by denying a petition for rulemaking to improve the standard for the psychological well-being of primates in research

Animal Legal Defense Fund files motion for summary judgement with damning evidence against the university

Today the Delaware County district court granted a motion for contempt filed by the Animal Legal Defense Fund against Cricket Hollow Zoo and its owners, Pamela and Thomas Sellner, seeking the whereabouts of more than 100 animals who "disappeared" prior to a court-ordered rescue.