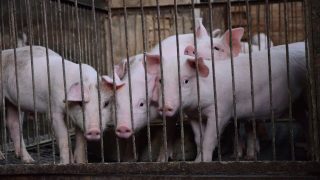 Ag-Gag Laws 2017
Presented by 7/11/17
This session will be led by Professor Alan Chen, University of Denver Sturm College of Law, and co-counsel on the Animal Legal Defense Fund's pending cases against Ag-Gag laws in Utah and Idaho. Chen will discuss how Ag-Gag laws impact animal protection, environmental protection, workers' rights and public health. Chen will also examine constitutional challenges brought against states that have passed the controversial laws, including the Animal Legal Defense Fund's cases, which will be discussed in depth.
This webinar was pre-recorded. Watch it now!
Related
The Animal Legal Defense Fund has helped defend California's right to enact the strongest farmed animal protection law in the country

Proposed rule would maintain an unnecessarily complicated and confusing process for children to get access to plant-based milk

Cows were killed in Madison, Brazos, and Robertson Counties, Texas.