2014 Advancement of Animal Law Scholarship Winners
The Animal Legal Defense Fund Advancement of Animal Law Scholarships are awarded to law student members of our student chapters based upon demonstrated commitment to ALDF's mission, "to advance the interests and protect the lives of animals through the legal system." Recipients are actively involved with their Student Animal Legal Defense Fund (SALDF) chapter while in law school and show promise in the field after graduation.
Meet the 2014 Recipients!
Alene Anello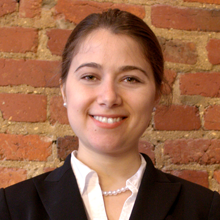 Alene Anello enrolled in Harvard Law School to acquire legal tools to protect animals used for food. Before law school, Alene worked at PETA for three years, where she created positive news events—such as PETA's Person of the Year awards given to Bill Clinton, Russell Simmons, and Anjelica Huston—that show Americans how simple choices can help animals.
As a first-year law student, Alene serves on the board of her Harvard Law School SALDF chapter. In this capacity Alene has organized three pro-animal talks which drew large audiences from the Harvard Law School community, a phone-banking volunteer day to protect mother pigs, and multiple SALDF outreach days for her law school. She also coordinated a day's worth of free vegan meals for the 200 attendees of a conference on industrial agriculture, and transitioned her SALDF chapter to serving all-vegan food at events. As a SALDF board member, Alene applies for funding and collects donations, obtains press coverage for the group, and helps maintain the group's website, email list, and Facebook page. In addition to her work with her SALDF chapter this academic year, Alene has conducted volunteer legal research for ALDF, taken an Animal Law course, and participated in an "Eating Animals?" reading group.
As freshman at Harvard College, Alene helped convince the school to switch to using cage-free eggs about half the time (Harvard College later went 100% cage-free). After this success Alene helped start the Harvard College Vegetarian Society and served as co-president. Alene invited vegetarian authors to speak at Harvard, showed films about animal protection, and served free vegan meals. As an undergraduate, Alene interned for the Humane Society of the United States (HSUS) Farm Animal Welfare division. This summer, Alene returns to HSUS to join the Animal Protection Litigation department. After law school, Alene plans to combine legislative advocacy and litigation to fight the abuse of animals on factory farms.
David Karopkin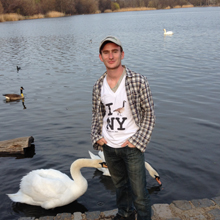 David Karopkin is entering his third year at Brooklyn Law School, where he will be serving as chair of the school's SALDF chapter. During his first two years at law school, David helped strengthen his school's SALDF chapter by organizing and promoting several events including educational panels, film screenings, and their annual vegan Thanksgiving. David is excited to lead the club next year, and hopes to build interest for animal law issues among the student body at his school, and partner with other local SALDF chapters and other student clubs.
David is also the founder and director of GooseWatch NYC. This organization works to address issues affecting wildlife in New York City and beyond. Already an ardent animal activist, when New York City instituted a program to roundup and slaughter Canada geese in New York City parks because of air safety concerns after the Miracle on the Hudson, David was inspired to advocate for urban wildlife. This year, David helped his SALDF chapter organize a panel at Brooklyn Law School focused on wildlife and air safety. He discussed the work of GooseWatch NYC to raise awareness about the issue, and the panel included veteran aviation expert Ken Paskar and Brooklyn Law school animal law professor Piper Hoffman.
David believes that understanding law is a vital tool in our efforts to protect people and animals alike, and plans to use his legal education and skills to further improve his advocacy in the future. Last summer, David worked as legal intern for the General Counsel to the Public Advocate of New York City, gaining invaluable legal and political experience. This summer, David will intern with Eastern Environmental Law Center, a nonprofit legal organization that works to protect water, air, natural habitat and wildlife.
Ann Porter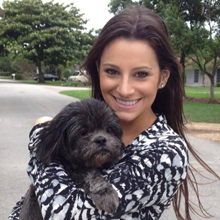 Ann Porter is entering her third year at The George Washington University Law School, where she has served as President of the G.W. Student Animal Legal Defense Fund chapter since beginning her second year of law school. In addition to her role leading her SALDF chapter, Ann has participated in a number of projects to promote animal welfare during her time in law school. She has worked on legal initiatives to ban the use of lethal population control methods on deer inhabiting Washington, D.C.'s Rock Creek Park and has also contributed to litigation efforts to prevent the importation of wild-caught beluga whales from Russia to aquariums in the United States. Ann's work has been published by the Association of Prosecuting Attorneys and in the American Bar Association's Animal Law Committee Newsletter. This year, she is part of an ongoing project to amend the District of Columbia's animal cruelty laws.
Prior to beginning law school, while studying at the University of Pennsylvania, Ann drafted her undergraduate thesis on the implications of legislative initiatives to strengthen protections for captive wildlife in the United States. During that time, Ann also worked at two veterinary hospitals in northern New Jersey and volunteered with the Homeless Animal Rescue Team's feline shelter. In addition, she served as a wildlife rehabilitator, caring for orphaned and injured animals until they could be re-released into the wild.
Ann currently lives with her dog and two cats, all of whom are rescues. She plans to begin her legal career in the private sector where she will use her law degree to advance animal welfare litigation efforts on a pro bono basis.
David Rosengard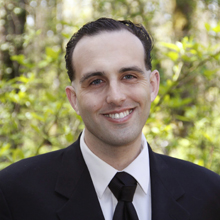 David Rosengard left a career in higher education to enroll at Lewis & Clark Law School in Portland, explicitly in order to build the skills necessary to champion the legal interests of animals. In his third year of law school, David will serve as his SALDF chapter's co-director. Previously, David served on the board of his schools SALDF chapter and did outreach to prospective students interested in animal law. He also ensured the chapter had resources to provide its members and the student body with opportunities like speakers, Meatouts, and a Farm Sanctuary visit. He also created a program that—by matching animal law students with undergraduate audiences—enables future animal lawyers to hone their lay-audience communication skills, while helping the larger community become aware of the legal challenges animals face and ways they can help animals. David looks forward to working with other law student groups to identify points where their justice concerns are juxtaposed with animal justice.
In addition to his work with SALDF, David considers himself fortunate to have been able to work with Professor Kathy Hessler on a forthcoming animal law textbook and the plight of pinnipeds in the Columbia River basin. This summer, David will be traveling to Kenya as part of the Kenya Legal Project, where he will study the country's wildlife and anti-cruelty laws and assist Kenyan lawyers and wildlife professionals to enact and enforce legal protections for animals. Upon his return, David will clerk for ALDF's Criminal Justice Program. Next year, he will serve as editor-in-chief for Animal Law Review.
After law school, David aims to expand animal law education and focus on using the criminal justice system to protect animals. David is also excited about serving as a SALDF advisor, and hopes to foster increased collaboration between chapters regionally.
Melanie Scheible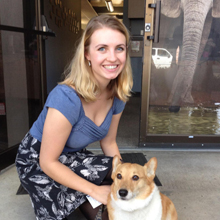 Melanie Scheible is entering her second year at Columbia Law School where she is the president of her SALDF chapter. Before entering law school, Melanie worked with Born Free USA to advance animal welfare through legislation, community activism, and education. Focused primarily on compassionate wildlife conservation, she helped see numerous bills from inception to passage in California and New York. She also oversaw Born Free USA's Zoo Check program, through which members of the public submitted reports about inhumane conditions in which they found animals at zoos, amusement parks, and other captive environments. Melanie worked with community members and policymakers to address these problems and raise awareness about the perils of keeping wild animals in captivity. In addition to her work at Born Free USA, she has been a shelter volunteer and is now a member of the RedRover Responders team, which rescues animals from crisis situations.
As a first year law student, Melanie joined the board of Columbia SALDF and was able to bring former colleagues to campus for discussions about animal law, policy, and politics. SALDF also hosted a movie screening and networked with other animal activists within the Columbia and New York City communities. In the upcoming year she is looking forward to expanding SALDF's programming to include additional pro bono projects and professional development.
Over the summer, Melanie will be serving as an intern at Chapter Four, a human rights organization in Kampala, Uganda. In the fall, she will begin an externship where she will be defending clients in constitutional rights cases. After law school, Melanie plans to pursue a career in the criminal justice system, working to reform laws that pertain to animal cruelty and the prosecution of animal abusers.
Meg York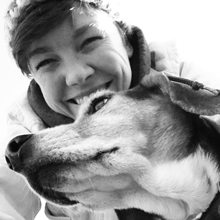 Meg York is in her final year at Lewis & Clark Law School in Portland, Oregon. She spent her first year studying at Vermont Law School, where she became an active member of her SALDF chapter. In Vermont, Meg lobbied against proposed ag gag legislation, participated in service days, and worked with various animal advocacy groups. She also helped organize the 2013 Animal Law Symposium.
Meg transferred to Lewis & Clark Law School after her first year in law school primarily because of her desire to pursue a career in animal law. Since arriving at Lewis & Clark, she has immersed herself in that school's many animal-related opportunities, and hopes to obtain the Animal Law Certificate. Meg served as an associate editor of Animal Law Review for the 2013–2014 academic year, and next year she will serve as a managing editor. Meg won first place in the National Animal Law Closing Argument Competition, and was a finalist in the Legislative Drafting and Lobbying Competition. She also won the award for Best Bill and Fact Sheet. Meg was one of seven students selected to participate in the Kenya Legal Project, where she will assist Kenyan lawyers and wildlife professionals in their efforts to enhance and enforce legal protections for animals in Kenya. Throughout her education, Meg has continued to engage in activism and on-the-ground animal aid. She is FEMA-certified to conduct animal rescue in the event of a natural disaster or emergency.
Meg is currently a legal intern with Mercy for Animals and plans to use her law degree to provide legal assistance for the philanthropic and nonprofit sector, to defend activists' civil liberties, to work for better legal protections for animals, and to inspire the next generation of animal lawyers.
Related
In May 2018, the Animal Legal Defense Fund filed a unique lawsuit in Oregon on behalf of a severely maltreated horse named Justice. Justice suffered starvation, frostbite, and other grave injuries due to his owner's failure to provide him with basic care.

On Saturday, September 8th, the Animal Legal Defense Fund hosted its Justice for Animals Gala 2018 in Los Angeles, CA.

During this interactive webinar, Joyce Tischler will detail the lives of farmed animals and the laws (or lack thereof) that protect them.