2011 Advancement of Animal Law Scholarships
The Animal Legal Defense Fund's Advancement of Animal Law Scholarships are awarded to second- and third-year law student members of Animal Legal Defense Fund Student Chapter based upon demonstrated commitment to Animal Legal Defense Fund's mission – to protect the lives and advance the interests of animals through the legal system. Scholarship recipients also act as mentors for their chapters after graduation.
Seven students received the international scholarship this year for their outstanding work in the growing field of animal law: Camille Labchuk, Jenni James, Michelle Newton, Elizabeth Overcash, Cody Carlson, Trevor Smith, and Laura Hagen.
3L Scholarships ($5,000):
Camille Labchuk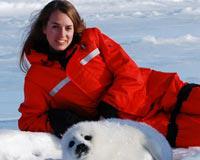 Camille is entering her third year at the University of Toronto Faculty of Law, where she is co-president of the school's Student Animal Legal Defense Fund chapter. Camille graduated from Mount Allison University in New Brunswick in 2005 with an Honors degree in psychology, and after working for years for a federal political party and an animal protection organization, pursuing animal law seemed like the natural next step in helping her to most effectively advocate on behalf of animals.
Camille has had a life-long passion for animal protection and has worked to advance the interests of animals for over a decade. As a public relations specialist with the Humane Society International/Canada, she documented the commercial seal kill on Canada's East Coast for three years, lobbied parliamentarians in Canada and the European Union, and worked on a variety of campaigns including horse slaughter, factory farming, and trophy hunting. She has been a board member of the National Capital Vegetarian Association in Ottawa, fosters kitten from the local animal shelter, and frequently attends animal protection protests and demonstrations.
The University of Toronto Animal Legal Defense Fund Student Chapter Club has hosted film screenings and guest speaker events attended by hundreds of people, has organized day trips to volunteer at a local farmed animal sanctuary, and has worked hard to raise the profile of animal law at the university. One goal of Animal Legal Defense Fund's scholarship is to ensure the recipient's chapter will maintain active and engaged leadership. As such, Camille will act as an Animal Legal Defense Fund Student Chapter's advisor to her chapter for up to two years after graduation; this mentorship will help ensure continuity of the chapter and contribute to its ongoing vitality.
Camille has attended several animal law conferences in North America and has helped with research for the first animal law text book to be published in Canada. Camille was awarded a fellowship grant for the summer of 2011 to work with Lawyers for Animal Welfare, Canada's only animal law organization. She plans to continue to work to grow the field of animal law in Canada, help develop a national network of animal lawyers, and use the legal system to advance the interests of animals.
Jenni James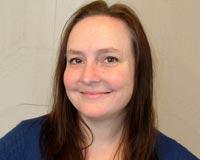 Jenni is entering her third year at the University of Chicago Law School, where she serves as co-chair of the Animal Legal Defense Fund Student Chapter. Before enrolling in law school, Jenni spent eight years as a volunteer with the Marine Mammal Center, rescuing stranded seals, sea lions, otters and cetaceans along California's central coast. Frustrated by the failure of the Marine Mammal Protection Act to insulate ocean animals from harm, Jenni decided to pursue a career in the legal field. Although Jenni's interest in animal law began with pinnipeds, her involvement with Animal Legal Defense Fund Student Chapter exposed her to the varied struggles of terrestrial animals. In particular, she hopes to use her law degree to improve the treatment of animals used for food, which do not enjoy even token protection under the law.
Last summer, Jenni clerked for the Environmental Defense Center in Santa Barbara, using environmental laws to protect wild animals and their habitat. This summer, Jenni will be clerking for the litigation program of the Animal Legal Defense Fund at their Northern California headquarters.
The University of Chicago Animal Legal Defense Fund Student Chapter is dedicated to increasing the number of networking and skills-building opportunities available to students of animal law. This year, Jenni helped organize her school's first annual National Animal Law Moot Court Competition. Twelve teams from nine law schools argued National Meat Association v. Brown, regarding California's prohibition of the slaughter of "downer" animals. Next year she plans to expand the moot court competition to include a brief writing element. In addition, her Chapter has recently secured funding to host its first annual weekend animal law conference. Recognizing the value of volunteering, Jenni also has plans to recruit undergraduate students in order to expand Animal Legal Defense Fund Student Chapter role within the Chicago community. Animal Legal Defense Fund Student Chapter members currently volunteer at PAWS, Chicago's only no-kill shelter.
Michelle Newton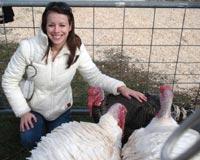 Michelle is entering her third year at Seton Hall University School of Law. Before starting law school, she volunteered with a non-profit focused on feral cat population control through Trap-Neuter-Return (TNR). She is the incoming president of Seton Hall Law's Animal Legal Defense Fund Student Chapter and has helped to grow the chapter while serving on its executive board for the past two years. She has planned two speaker panels, entitled "The Intersection of Property Law and Animal Law," and "The Link Between Domestic Violence and Animal Abuse." She also organized two pet food and supply donation drives to benefit local animal shelters and food pantries. In conjunction with local Animal Legal Defense Fund Student Chapter chapters and Seton Hall Law's Center for Social Justice Pro Bono Program, she participated in two pro bono research projects for national animal welfare organizations.
During Michelle's first semester at Seton Hall Law, she helped to initiate the school's first animal law course. While taking this class during her second year, Michelle wrote a paper discussing United States v. Stevens and the constitutionality of the newly-enacted Animal Crush Video Prohibition Act. She is also an incoming symposium editor for the Seton Hall Legislative Journal and wrote her law review article on the effectiveness of state and federal dogfighting laws and the importance of societal perceptions of pit bulls in combating dogfighting. Last summer, Michelle interned with the organization Neighborhood Cats, drafting model TNR-enabling ordinances and supplemental research essays. Most recently, she competed in the 2011 National Animal Law Competition, Legislative Drafting and Lobbying Competition.
Michelle is a vegan of nine years and currently lives with her rescued rabbit. She enrolled at Seton Hall Law with the purpose of helping animals and aspires to be employed by an animal welfare non-profit organization. Her areas of interest in animal law include farmed animal protection, dogfighting, domestic violence and pet abuse, and legislative reform.
Elizabeth Overcash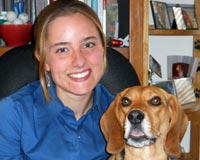 Elizabeth is entering her third year at the University of North Carolina School of Law, where she founded the school's Animal Legal Defense Fund Student Chapter and currently leads it as president. This year, her Student Chapter has been one of the most active groups at the law school. They brought in several speakers, hosted vegetarian and vegan lunches, did a fundraiser for their local shelter, organized a book club to read Eating Animals, and executed a five-week animal advocacy event. They are also working on a large pro bono project called Justice for Bella, arising out of the unjustified shooting of a North Carolina dog.
Elizabeth's greatest accomplishment this year has been the successful petition of the school for an animal law class, which will be taught at UNC Law for the first time in the fall of 2011. Additionally, she wrote a law review article comparing the treatment of companion animals with that of factory farmed animals, which will be published in the North Carolina Law Review next year.
Elizabeth has been an animal lover all of her life, and she currently has a rescued beagle, Atticus. She led an animal interest group called Helping Paws in college and came to law school with the hope of finding a way to better the situation of animals. After graduation, Elizabeth hopes to work for an animal interest organization and devote her career to animal protection.
2L Scholarships ($2,500):
Cody Carlson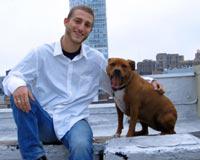 Cody is entering his second year at Brooklyn Law School, where last year he served as co-chair of a thriving Animal Legal Defense Fund Student Chapter. Before law school, he worked on farmed animal welfare initiatives as a researcher and campaign coordinator for several nonprofit groups. Most recently, he coordinated volunteers to help Ohioans for Humane Farms broker a historic agreement to phase out sow and veal crates and require basic animal care standards for dog breeders.
As a law student, Cody has engaged his peers in animal law by organizing panels, trainings, pro bono opportunities, and social events. He is currently completing a paper for the Nonhuman Rights Project exploring strategies for establishing legal "personhood" for primates, and he is working with his school's cafeteria to transition to the use of cage-free eggs.
Cody graduated from the University of California at Santa Cruz with a bachelor's degree in Community Studies. Before working in animal protection, he investigated corporate fraud for a leading business intelligence firm, where he discovered a passion for promoting corporate integrity and transparency. This summer, he will be driving to Los Angeles with his rescued pit bull, Kenna, to pursue this passion through an internship with the animal protection group Compassion Over Killing.
Trevor Smith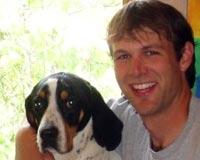 Trevor is entering his second year at Florida State University College of Law, where last year he served as vice president of the newly founded the Animal Legal Defense Fund Student Chapter. This past year the FSU chapter worked with Pets Ad Litem, a group of local attorneys dedicated to animal law issues, to plant a rain garden at the county animal shelter. The garden's goal was two-fold: to reduce storm-water run-off and boost adoption rates by improving the aesthetics of the shelter. Pets Ad Litem is also sponsoring the cash prize for FSU Animal Legal Defense Fund Student Chapter's first-ever Florida Animal Law Writing Competition this summer. In March, the chapter also hosted Dr. Melanie Joy, author of Why We Love Dogs, Eat Pigs, and Wear Cows, at its first speaking event. According to Trevor, the combination of the nature of her talk and the spread of exclusively vegan food incited some lively discussion around the law school and challenged the students to think outside their dietary norms, even if just for a few hours.
Prior to law school, Trevor served as the Assistant Director of Spirit of the Hills Wildlife Sanctuary in Spearfish, South Dakota. His primary role was caretaker to over 400 rescued animals, including injured/orphaned wildlife, companion animals, and captive exotics. At the sanctuary, Trevor had the unique experience of assisting with the large-scale rescue mission of 63 exotic animals (including 17 tigers, 9 lions, and 11 bears) from an illegal breeding operation in rural Minnesota that had been a major supplier of exotic animals to zoos, the entertainment industry, and private households. (Ming, the tiger rescued from a New York city apartment in 2003, was purchased from this breeding facility.)
During his time at the Sanctuary, Trevor was also selected to represent a collective of national mountain lion advocacy groups, including the Black Hills Mountain Lion Foundation, to testify before the South Dakota State Senate in opposition to a proposed sport hunt. After the Senate passed the referendum to legalize the hunt, a team of lawyers from California sued the State of South Dakota to reject the sanctioned hunt on the basis of unsound science. Watching the court proceedings and discussing the litigation strategies with the legal team inspired Trevor to pursue a law degree. Ultimately, he plans to utilize his legal credentials to gain access to the judicial and legislative lawmaking processes. He wants to develop wildlife conservation strategies and protection measures to prevent wildlife from enduring tortured lives as roadside attractions, circus and theme park entertainment, and household "pets."
Laura Hagan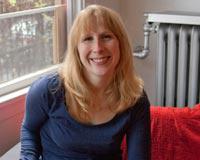 Laura is entering her second year at Lewis & Clark Law School in Portland, Oregon. Laura moved to Oregon to take advantage of Lewis & Clark's animal law program. She is an active member of the school's Animal Legal Defense Fund Student Chapter and is a member of the conference committee for the 2011 Animal Law Conference at Lewis& Clark, organized by Animal Legal Defense Fund Student Chapter and the Center for Animal Law Studies. Laura is also a submissions editor for the Animal Lawjournal.
Prior to attending law school, Laura both worked and volunteered in animal protection. Her work spanned from lobbying state lawmakers and testifying in support of animal protection legislation to conducting extensive research on laboratory animal welfare. In addition, she worked as a program coordinator for a large, urban animal shelter. She filled a variety of roles there, but considers her greatest achievement to be coordinating foster care for over 800 animals each year.
Laura's volunteer experiences range from scooping kitty litter and mucking horse stalls in shelters to managing the creation of a non-profit that keeps the elderly and people with HIV/AIDS with their pets by providing supportive services. She also volunteered as a veterinary assistant in low-cost spay/neuter clinics and assisted with many aspects of a successful ballot initiative to end commercial dog racing in Massachusetts. Since arriving in Portland, Laura has joined with other Animal Legal Defense Fund Student Chapter members volunteering at clinics providing basic veterinary care to the pets of people who are homeless and in extreme poverty.
Laura resides with her two cats, whom she considers to be her best "failures," as in "foster failures"–they came into her life as short-term foster pets, but (happily) never left.
Related
The amicus briefs from notable experts including Harvard University's Laurence H. Tribe filed in support of neglected horse's lawsuit against his former abuser

Join co-host Jackson Galaxy, comedian Nikki Glaser, and other special guests

The awardees helped on several critical Animal Legal Defense Fund cases