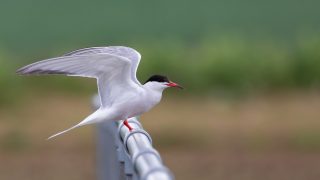 $5,000 Reward Offered for Information about Drone Crash in California
Animal Legal Defense Fund offers reward for information leading to the arrest and conviction of the person(s) responsible for operating and crash-landing a drone at the Bolsa Chica Ecological Reserve in Orange County
Contact: media@aldf.org
ORANGE COUNTY, Ca. — The Animal Legal Defense Fund, the nation's preeminent legal advocacy organization for animals, is offering a $5,000 reward for information leading to the arrest and conviction of the person or people responsible for operating a drone that crashed at the Bolsa Chica Ecological Reserve in Huntington Beach, which is protected coastal wetland.
On or about May 13, 2021, a downed drone was discovered in a critical habitat nesting area for elegant terns—who notably are known for their bright orange bills and black crests—forcing roughly 2,500 of the birds to flee and leave behind approximately 1,500 unsavable eggs. In California, drones may not be operated on protected wetlands without a permit. The is not the first time a drone crashed in this area; about two days prior—on May 11th—another drone crash-landed on the Reserve. Authorities were able to locate and cite that drone operator.
"Sanctuaries, like Bolsa Chica Ecological Reserve, are established so that wildlife have a safe place—away from urban sprawl, light pollution, and other human interference—to thrive in natural conditions," says Animal Legal Defense Fund Executive Director Stephen Wells. "The blatant disregard for the law, and wellbeing of these birds and their offspring, is a concern we should all share. We thank the California Department of Fish and Wildlife for their swift action in this case and for taking this incident seriously."
The investigation into the incident is ongoing. In California, it is a misdemeanor to harass wildlife. The maximum penalty is up to one year in county jail or a maximum fine of $1,000, or both. Further, in California, the maximum penalty for misdemeanor animal cruelty, which includes the destruction of wildlife, is up to one year in county jail or a maximum fine of $20,000, or both.
If you have information related to this incident, please contact the California Department of Fish and Wildlife at 1-888-334-2258 (1-888-334-CalTip).
Related
Cows were killed in Madison, Brazos, and Robertson Counties, Texas.

Reward for information leading to the arrest and conviction of the person or people responsible for illegally shooting and killing a red wolf in Tyrrell County, North Carolina.

Animal Legal Defense Fund offers reward for information leading to the arrest and conviction