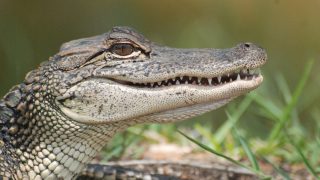 $5,000 Reward Offered for Information about Bound Alligator in Florida
Animal Legal Defense Fund offers reward for information leading to the arrest and conviction of the person or people responsible for binding an alligator in Seminole County, Florida
Contact: media@aldf.org
SEMINOLE COUNTY, Fla. — The Animal Legal Defense Fund, the nation's preeminent legal advocacy organization for animals, is offering a $5,000 reward for information leading to the arrest and conviction of the person or people responsible for binding an alligator with duct tape. Earlier this month, an alligator—whose eyes and snout were taped shut—was spotted swimming in Sweetwater Canal, just off the Wekiva River. According to officials, the alligator's snout and hind legs were bound with duct tape. While the alligator's limbs were not bound together, the tape was extremely tight, almost cutting off circulation. The alligator's eyes were also taped shut. The Florida Fish and Wildlife Conservation Commission responded to calls about the alligator immediately.
Officials are investigating a possible connection between this incident and two other incidents involving bound alligators in the area – one occurred earlier this year and the other occurred last year.
"Wild animals are protected under the law. This is a very serious crime, all the more urgent because it may be part of a larger pattern of cruelty and animal cruelty can be an indicator of violence and other crimes against people as well," says Animal Legal Defense Fund Executive Director Stephen Wells. "We thank the Florida Fish and Wildlife Conservation Commission for their swift action in this case and for taking this incident—and the other possibly related incidents—seriously."
In Florida, it is a third-degree felony to intentionally injure, kill, posses, or capture an alligator. The maximum penalty is up to five years in prison or fine of $5,000, or both.
If you have information related to this incident, please contact the Florida Fish and Wildlife Conservation Commission at 1-888-404-3922.
Join the Animal Legal Defense Fund's email list to stay up to date on lawsuits, legislation, and regulations affecting animals.
Sign Up Now
Related
Additional $20,000 reward offered for information leading to the arrest and conviction of the person or people responsible for attacking and mutilating dozens of brown pelicans on the coast of Orange County, California.

Animal Legal Defense Fund offers reward for information leading to the arrest and conviction of the person or people responsible for operating and crash-landing a drone at the Bolsa Chica Ecological Reserve in Orange County, California

Animal Legal Defense Fund increases reward for information leading to the arrest and conviction of the person or people responsible for harassing manatee in Citrus County, Florida