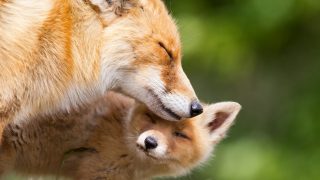 Animal Legal Defense Fund: 2017 Year in Review
The new year is almost here, and it's time to take stock of all the legal advances we've made together for animals in 2017. Victories defeating dangerous Ag-Gag legislation, increasing the pressure on the U.S. Department of Agriculture to uphold the Animal Welfare Act, and assisting police and district attorneys in nearly 100 animal cruelty cases across the country to hold animal abusers accountable are just a few of our accomplishments this year!
Watch the new video from our Executive Director Stephen Wells which highlights many of the victories we've accomplished together in 2017.
Thank you for your ongoing support. Whether it's sharing our message on social media, responding to our action alerts, or making the generous donations that enable us to give animals the expert legal team they deserve, our success is all because of you.
Related
The Animal Legal Defense Fund, the preeminent legal advocate for animals, released the first in a series of white papers providing policy recommendations to reduce our heightened risk from zoonotic diseases like COVID-19 and the next global pandemic, which need only a human-animal interaction to arise.

The Animal Legal Defense Fund has launched a series of billboards, in English and Spanish, surrounding the JBS slaughterhouse in Greeley, Colorado — offering an online tip portal where industrial animal agriculture workers can report any concerns, including worker safety, animal abuse and depopulation, and illegal disposal of animals' bodies.

The Animal Legal Defense Fund announced that the U.S. District Court for the Northern District of California has denied the California Department of Food and Agriculture's (CDFA) motion to dismiss the lawsuit filed on behalf of Miyoko's Creamery (Miyoko's).