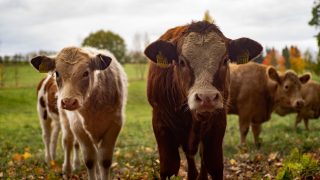 Laws prohibiting sexual assault of animals
2022 U.S. Animal Protection Laws State Rankings
Select an animal law category to view 2022 trends:
Prohibitions on Sexual Assault
◼︎Has a law banning sexual abuse of animals
◼︎Has a law criminalizing "crimes against nature"
or otherwise inadequately defined bestiality statute
◼︎ Has no law addressing sexual assault of animals
Another trend of 2022 was the enactment of laws prohibiting the sexual assault of animals. In 2022, three states – Florida, Idaho, and Virginia – all updated their antiquated laws to effectively address the issue of sexual assault of animals. In fact, Virginia's new law helped the state climb back into the Ranking's top tier for the first time in four years.
As of 2022, 48 states criminalize the sexual assault of animals. New Mexico and West Virginia are the only two states that still do not have any laws protecting animals from sexual assault. In those states, sexual assault could still be prosecuted as animal cruelty if the animal suffers some physical harm, but that is still grossly insufficient to address the issue.
However, 11 of those 48 states have outdated laws which prohibit vague, undefined crimes such as the "abominable crime against nature," or otherwise fail to adequately define the crime. Not only are such statutes difficult to enforce due to their vagueness, but they are also usually closely tied to unconstitutional sodomy laws. For the past several years, states have slowly but surely been updating their laws, making their provisions clear and enforceable. Most of these updated laws not only criminalize sexual assault, but also address related crimes such as the production of obscene recordings of animal sexual assault. Updated laws also typically contain comprehensive sentencing provisions which typically prohibit a convicted offender from owning or possessing an animal for a set period of time, and which require convicted offenders to undergo psychological evaluations and treatment. Such provisions help to reduce recidivism and protect potential future animal victims.
Update: On March 30, 2023, New Mexico enacted the Animal Sexual Abuse Act making the sexual assault of animals a felony. Currently, West Virginia is the only remaining state without a law prohibiting the sexual assault of animals.
Since 1979, the Animal Legal Defense Fund has led the charge to win animals the legal protection they so desperately need—and deserve. Your generous gift will assure that we can continue to take on cases that advance the interests of animals.
Donate