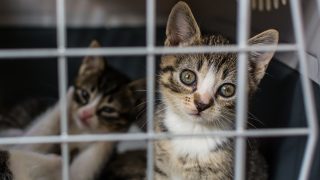 Mass Animal Fund (Massachusetts)
H. 3900 Amendment #139/S. 3 Amendments ENV #4 & #8
These amendments in the state budget bill for fiscal year 2024, will allocate $100,000 to critical companion animal health services.

Companion Animals
The Animal Legal Defense Fund supports these amendments.
Sponsors:
Amendment #139 – Rep. Ted Phillips (D-8th Norfolk)
Amendment ENV #4 – Sen. John Velis (D-Hampden and Hampshire)
Amendment ENV #8 – Sen. Bruce Tarr (R-1st Essex and Middlesex)
These amendments will:
allocate $100,000 to help protect animals, including offsetting the cost of spaying/neutering services and providing standardized, required training for all animal control officers to ensure uniform and strong enforcement of animal control laws.
Why are these amendments important? Increasing access to spay/neuter benefits animals and their families in a number of ways. Behaviors that can lead to animals being relinquished to animal shelters diminish or are eliminated — and accidental litters are born into the community, leading to fewer strays and fewer animals brought to the shelter. The decrease in animal intake into shelters results in fewer animals killed.
Coalition support: Animal Rescue League of Boston; Humane Society of the United States; MSPCA