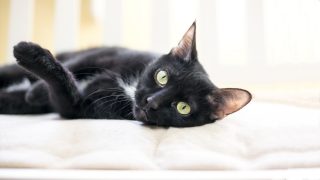 The Izzy the Cat Act (Delaware)
S.B. 258/S.S. 1
When a companion animal is harmed by another person's actions, Delaware law currently limits monetary damages to the animal's "fair market value." A new bill would instead allow the animal's guardian to recoup the cost of veterinary care.

Companion Animals
Status
Governor John Carney signed the bill into law on 10/14/22
When a companion animal is harmed through another person's actions or negligence, the cost of their veterinary care can be overwhelming.
But under current Delaware law, the guardian of an animal who's been hurt or killed by a third party can only recover the "fair market value" of that animal from the person(s) responsible for harming them, which legally is usually a nominal fee.
State lawmakers are considering bipartisan legislation to change that.
The Izzy the Cat Act (S.B. 258/S.S. 1) would remove the "fair market value" cap on monetary damages that can be recovered by a companion animal's guardian in civil court from those responsible for harming the animal.
Izzy, the bill's namesake, was injured by a third-party individual and needed significant veterinary care. Insurance arbitration determined that the cat's injuries were "compensable," but the monetary damages recovered by Izzy's guardian were severely limited by current state law. As a result, Izzy's family — not the person who harmed Izzy — was saddled with major veterinary bills for the cat's treatment.
Izzy's story is echoed by that of Peanut, a Yorkshire terrier who was injured when a neighbor's much larger dog entered Peanut's fenced yard. A resulting fight between the two dogs caused severe injuries to Peanut. In the civil case that followed, Peanut's guardian was only able to recover $400 — the amount she'd originally paid to purchase Peanut — despite having paid thousands of dollars in veterinary bills to treat the dog's injuries.
If enacted, the Izzy the Cat Act would enable guardians to recover in civil court the cost of veterinary treatment and other care expenses for a companion animal who was harmed, with no arbitrary "fair market value" cap on the dollar amount.
The Animal Legal Defense Fund strongly supports this commonsense legislation, which is sponsored by State Sen. Ernesto B. Lopez (R-6th).
The Izzy the Cat Act was approved by the Delaware State Senate in May 2022 and will next be considered in the state House of Representatives.
Learn more about animal protection laws in Delaware. For additional information about tort cases involving companion animals, watch the Animal Legal Defense Fund's on-demand webinar Critical Caselaw: What's an Animal's Life Worth?
Join the Animal Legal Defense Fund's email list to stay up to date on lawsuits, legislation, and regulations affecting animals.
Sign Up Now