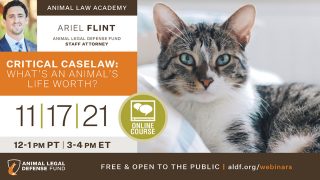 Critical Caselaw: What's an Animal's Life Worth?
Wednesday, November 17th, 2021
Join Animal Legal Defense Fund Staff Attorney Ariel Flint for a discussion about damages and valuation in tort cases involving companion animals. The webinar will reflect on how the legal system has valued the life of an animal in the past, and how it might do so differently going forward. A brief Q&A to follow.
Join the Animal Legal Defense Fund's email list to stay up to date on lawsuits, legislation, and regulations affecting animals.
Sign Up Now
Related
Edie Falco narrates the Animal Legal Defense Fund film demanding transparency in factory farming

D.C. Court of Appeals rules Animal Legal Defense Fund can pursue its claims

Animal Legal Defense Fund-led coalition wins major victory for animal protection, food and worker safety, and the First Amendment