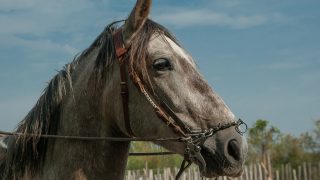 Horse Transportation Safety Act of 2019 (Federal)
Federal Legislation
The Horse Transportation Safety Act would ban the transportation of horses in double-deck trailers.
Companion Animals
The Horse Transportation Safety Act would ensure more humane treatment of horses on roads and highways by prohibiting the transportation of horses in interstate transportation in motor vehicles containing two or more levels stacked on top of one another.  The legislation is sponsored by Representatives Steve Cohen (D-TN), Peter King (R-NY), Dina Titus (D-NV), and Brian Fitzpatrick (R-PA). Read the bill language here: H.R. 1400
Double-deck trailers are designed for smaller, shorter animals. In some cases, the horses are actually taller than the trailer ceiling. Cramped and unable to stand upright, horses endure long, painful journeys and sometimes suffer serious injuries. In 2011, the U.S. Department of Agriculture (USDA) banned transporting horses destined for slaughter in double-deck trailers. The American Veterinary Medical Association endorsed the rule noting that studies have shown these trailers "cause significantly more injuries to horses during transport than do single-deck trailers." However, if the horses are being transported for other purposes, the USDA regulation does not apply. This legislation would close that loophole.
The Animal Legal Defense Fund strongly supports this bill. You can politely urge your federal legislators to support these bills by sending them a message.