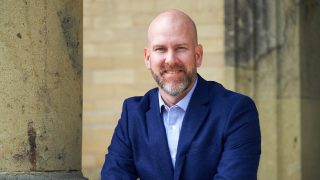 David Korsak
Chief Financial Officer
As Chief Financial Officer, David Korsak oversees the Animal legal Defense Fund's financial activities and serves in a strategic advisory role for Executive Director Stephen Wells and the Senior Executive Team.
David received a B.S. in Accounting from the University of Phoenix and his master's degree in Finance at Northeastern University. Dave started his career in the United States Marine Corps and was honorably discharged in June 2000. He transitioned into nonprofit work as CFO with the Oakland Public Education Fund, where he supported the education-focused organization by managing extreme operational and technological scale and overseeing Finance, Accounting, HR, IT, Real Estate and Risk Management. David received a Mayor's Proclamation for his efforts with the Oakland Public Education Fund from Oakland's Mayor Libby Schaaf. He was recruited by California Rural Legal Assistance, Inc. — one of the largest legal aid organizations in the country — serving marginalized rural California communities with free civil legal services. He managed the Finance, Accounting, Real Estate, and Risk Management departments and played a significant role in strategic leadership for the organization. Although these organizations focus in other societal areas, David has a love for animals, which brought him to the Animal Legal Defense Fund.
David is married to his wife Katherine and they have two amazing children, Elijah and Lily, as well as Precious, a standard poodle, and Duke, a King Charles Cavalier spaniel.