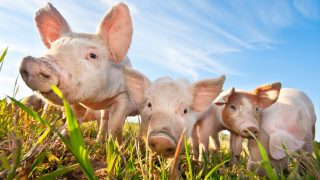 We're Working on a Major Change for Farmed Animals!
The Animal Legal Defense Fund is proud to join Prevent Cruelty California. This coalition is working to place a critical measure on the November 2018 ballot to upgrade California's laws relating to the extreme confinement of farm animals. This measure is a basic way to protect some of the most abused animals in the state. It will prevent farmed animals in California from being crammed into cages so small that some animals can't stand up or turn around. It will also ensure that food items sold in California are compliant with these modest standards, forcing out-of-state producers to change their inhumane practices, too.
Other states and food retailers have already adopted cage-free standards. It's time for California to do the same.
If you live in California, we need your help! To make the measure successful, Prevent Cruelty California needs to collect approximately 365,000 signatures by March 2018 to be added to the November 2018 ballot.
You can sign up to volunteer as a signature collector, and join us at a kickoff event for the ballot initiative. Staff from the Animal Legal Defense Fund will be at several events, and we hope to see you there!
Join us at these events:
Animal Legal Defense Fund Downtown Los Angeles Kickoff: Saturday, Nov. 11 at 2 p.m.
San Francisco Kickoff: Monday, Nov. 13 at 6 p.m.
Santa Barbara: Thursday, Nov. 16th at 6 p.m.
Anaheim/Orange County Kickoff: Sunday, Nov. 19 at 4 p.m.
Ventura Kickoff: Wednesday, Nov. 29 at 6 p.m.
Marin County Kickoff: Thursday, Nov. 30 at 6 p.m.
West Hollywood Kickoff: Thursday, Dec. 7 at 6 p.m.
To RSVP and see more kickoff event dates and see more kickoff events, visit https://preventcrueltyca.com/kickoffs.
Related
These awards celebrate chapters that have shown incredible efforts in advancing animal law and advocating for animals through original projects and initiatives. Animal Legal Defense Fund Student Chapters are a vital part of the growing animal law movement.

Missouri passed a law that prohibits many products — including plant-based and cellular meat — from identifying themselves as "meat." The new legislation, which became effective on August 28, 2018, carries criminal penalties of prison time and fines.

Law enforcement officers and prosecutors who respond to crimes face a host of challenges. From neglected cows who are unable to testify, to dog fighting 'evidence' having puppies, the unexpected is a matter of course in the struggle against animal cruelty.