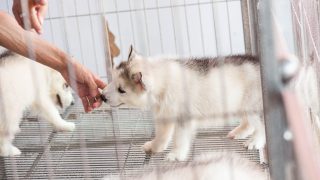 What To Do When You Find Animals in Substandard Conditions at a Pet Store
You've stopped into the local pet store on your way home from work to pick up food for your cat. Your kids begged to visit a store that advertises puppies for sale, until you relented. But when you go inside, you're shocked at what you find: puppies who seem too young to be away from their mothers, who seem sick and poorly-cared for. Other animals for sale are clearly unwell.
What can you do to help?
Document your findings: Take photos if you can. Write down dates, locations, and specific problems, so you can be as specific as possible when filing a complaint.
Contact law enforcement or animal protection groups: Bring your documentation and copies of applicable laws to local law enforcement, a local humane society, or animal control. If your community does not have this type of agency, law enforcement would be the sheriff or police department.
Reach out to local media: Consider enlisting the help of the local media — newspapers, radio and television stations, online publications and blogs — to publicize the situation. You may attract more media attention if you are able to organize a protest or start a petition.
Push for stronger animal protection laws and better enforcement of those laws: It is an unfortunate reality that the regulation of retail pet stores is often painfully lax.
One important thing you can do as an animal lover is let your local lawmakers know that you want stronger animal protection laws and better enforcement of those laws. For example, let your city council and state representatives know you want them to pass a "retail pet sale ban," which would require pet stores to sell only cats and dogs coming from shelters and rescue groups — not from commercial breeders and puppy mills.
Related
Damning evidence presented during proceedings are the foundation of the appeal

Actress Christian Serratos narrates the Animal Legal Defense Fund film advocating for an end to puppy mills

Animal Legal Defense Fund's lawsuit alleged Hormel misleads consumers with its Natural Choice® brand of lunch meats and bacon
Since 1979, the Animal Legal Defense Fund has led the charge to win animals the legal protection they so desperately need—and deserve. Your generous gift will assure that we can continue to take on cases that advance the interests of animals.
Donate