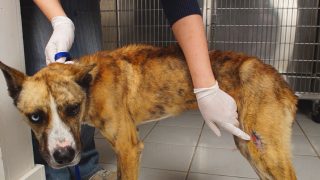 What To Do When Animal Cruelty Laws Have Been Broken
Criminal Cruelty
When Criminal Charges Have Not Yet Been Filed
Animal cruelty is a crime in all 50 states. The Animal Legal Defense Fund does not have law enforcement capacity, and it is imperative that local law enforcement authorities fully investigate allegations of animal abuse or neglect.
If you witness the abuse or neglect of an animal, please immediately file a formal written complaint with the local law enforcement agency – that would be the police and/or sheriff, as well as animal control/SPCA where available. Provide law enforcement authorities with as much detail as is known to you – including contact information and property addresses. Let them know if you are willing to testify in court as needed, including at trial – it is a great help to a case when investigators know they have a credible and cooperative witness. While not ideal, reporting anonymously is better than not reporting at all, and each agency will have a protocol for accepting anonymous reports.
If you have information about animal cruelty that you have not personally observed, but you do not believe charges have been filed – there again, please contact law enforcement in the jurisdiction where the alleged abuse took place. Be sure to clearly state the source of your information, and that you are not an eyewitness.
When Criminal Charges Have Been Filed
If you have information about an animal abuse or neglect case and criminal charges have already been filed, please send an email to the Animal Legal Defense Fund via action1@aldf.org, providing as much of the following information as possible:
the defendant's name
a brief description of the crime
date of incident and/or arrest
city and county of jurisdiction
the name and phone number of the prosecutor assigned to the case
Our Criminal Justice Program attorneys work directly with investigators and prosecutors handling animal cruelty cases nationwide, providing them with free legal assistance toward thorough investigations and meaningful prosecutions.
Every day, animals are abused and killed. Their abusers frequently do not face any consequences – it's still extremely common for animal cruelty to go unpunished. Without you, animals have no voice. Sign the petition.
Take Action
Related
The Animal Legal Defense Fund, the preeminent legal advocate for animals, released the first in a series of white papers providing policy recommendations to reduce our heightened risk from zoonotic diseases like COVID-19 and the next global pandemic, which need only a human-animal interaction to arise.

The Animal Legal Defense Fund has launched a series of billboards, in English and Spanish, surrounding the JBS slaughterhouse in Greeley, Colorado — offering an online tip portal where industrial animal agriculture workers can report any concerns, including worker safety, animal abuse and depopulation, and illegal disposal of animals' bodies.

The Animal Legal Defense Fund announced that the U.S. District Court for the Northern District of California has denied the California Department of Food and Agriculture's (CDFA) motion to dismiss the lawsuit filed on behalf of Miyoko's Creamery (Miyoko's).