2018 Debrief: Recent Victories! Plus Visions for 2019
Presented by Stephen Wells, December 12, 2018
As 2019 approaches, we're looking back at our biggest legal victories for animals over the last 12 months. In response to our lawsuits, courts struck down key provisions of unconstitutional Ag-Gag laws in Utah and Idaho. We filed a groundbreaking lawsuit arguing that animals have the right to sue their abusers in court. And we continued to fight the removal of tens of thousands of animal welfare records from the U.S. Department of Agriculture online database. These are just a few highlights!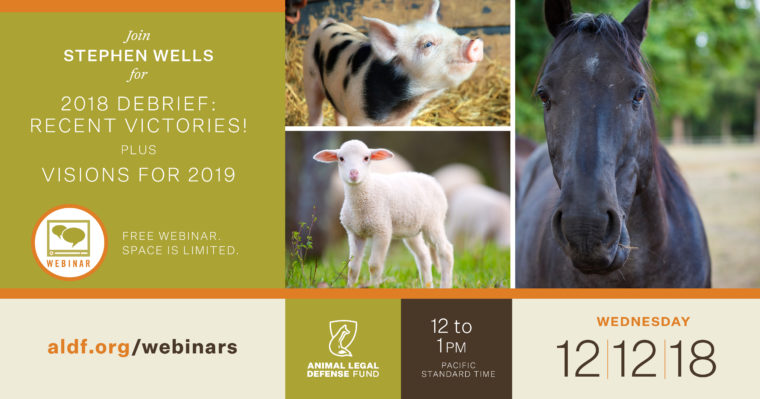 Join Stephen Wells, executive director of the Animal Legal Defense Fund, as he shares stories behind this year's biggest victories. Mr. Wells will also give a glimpse into what is planned for 2019. A brief Q&A will follow.
This webinar has already taken place.  You can watch a recording of the session by registering here.
Related
Cruel high-speed pig slaughter is about to go nationwide. Help us protect pigs and contact your senators today.

Ask your state legislators to support a bill to update Massachusetts' outdated hunting laws.

Massachusetts is considering a number of significant animal protection bills this legislative session. The Animal Legal Defense Fund is supporting several priority bills.