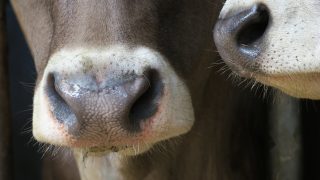 Utah Will Not Appeal Decision Holding Ag-Gag Law Unconstitutional
The Animal Legal Defense Fund and People for the Ethical Treatment of Animals (PETA) announce successful lawsuit against Utah's Ag-Gag law
Contact: media@aldf.org
Utah – The Animal Legal Defense Fund and People for the Ethical Treatment of Animals (PETA) are pleased to announce that their successful lawsuit against Utah's Ag-Gag law, which criminalized undercover investigations at factory farms and slaughterhouses, will not be appealed.
The U.S. District Court of Utah declared the state's Ag-Gag statute unconstitutional in July, holding that it violated the free speech rights of undercover investigators and journalists.
On Sept. 6, 2017, Utah's attorneys filed court documents stating they will not appeal that decision.
"Utah's decision not to appeal its loss is a signal to other states that these unconstitutional Ag-Gag laws are indefensible," says Animal Legal Defense Fund's executive director Stephen Wells. "Should Utah's legislature try to pass a new Ag-Gag law to replace the last one, we'll see them back in court."
"Coupled with our recent victory in Idaho, this decision shows that states are going to have a hard time covering up cruelty to animals," says PETA Foundation Director of Animal Law Jared Goodman. "Americans have a right to know that workers in the meat industry stomp on and throw chickens around like footballs, smash piglets' heads against concrete floors, and beat and sexually assault pigs with canes and gate rods."
The Utah lawsuit, filed in 2013, was the first to challenge Ag-Gag laws, which are on the books in nine states. The Animal Legal Defense Fund—leading a coalition of animal protection, environmental protection and civil rights organizations—successfully struck down Idaho's Ag-Gag law in 2015, a decision currently on appeal in the Ninth Circuit. The Animal Legal Defense Fund is committed to challenging Ag-Gag laws across the country.
Related
Meat and dairy alternatives can use common naming conventions in the state without fear of prosecution

Public interest coalition celebrates another win against unconstitutional statute barring undercover investigations at factory farms

Edie Falco narrates the Animal Legal Defense Fund film demanding transparency in factory farming