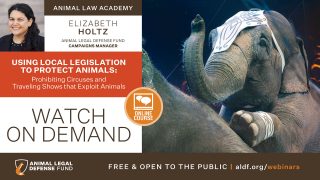 Using Local Legislation to Protect Animals: Prohibiting Circuses and Traveling Shows that Exploit Animals 2020
Presented 4/30/20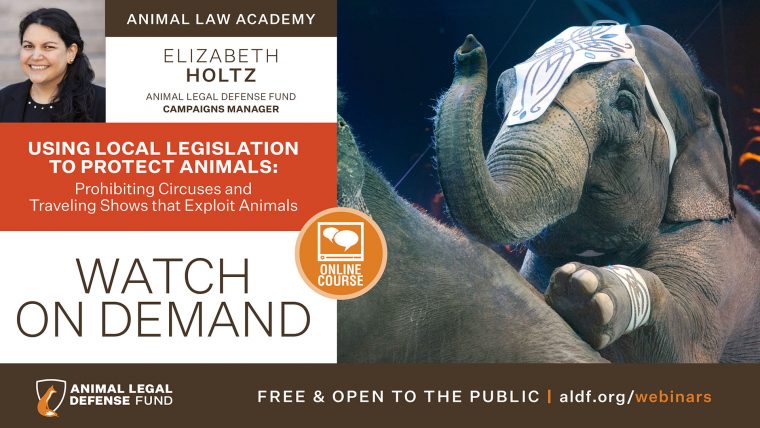 Learn how wild animals are exploited in circuses and traveling shows, and how you can help! The first part of this webinar focuses on the cruelty and safety issues surrounding the use of wild animals in live performances, as well as a round-up of existing state and local laws already prohibiting these inhumane shows. During the second half of the webinar, attendees will learn how to actually pass a local law prohibiting the use of wild animals in circuses in their own city or county. Animal Legal Defense Fund Campaigns Manager Elizabeth Holtz will walk you through the steps to passing a ban, as well as share tips that can be applied to any local legislative campaign.
This webinar was prerecorded. Watch now!
Resources
Related
Today the House of Representatives voted 272 to 114 to pass the Big Cat Public Safety Act. Endorsed by the Animal Legal Defense Fund, the bill prohibits the private ownership of big cats and makes it illegal for exhibitors to allow direct contact with cubs.

The Animal Legal Defense Fund applauds the closure of the Greater Wynnewood Exotic Animal Park, the zoo depicted in the Netflix documentary, "Tiger King," following the U.S. Department of Agriculture's (USDA) suspension of its owner's exhibitor license.

After multiple lawsuits filed and fought by the Animal Legal Defense Fund, the Tiger Truck Stop has finally stopped exhibiting animals and tore down its cages. The Tiger Truck Stop, the infamous gas station in Gross Tete, Louisiana, held Tony — an endangered Siberian-Bengal tiger — from the age of 6-months until his death at the age of 17 in 2017.