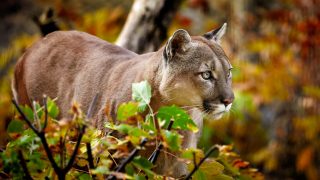 California: Urge Governor Newsom to Protect Wildlife from Super-Toxic Rat Poisons  
THIS ACTION IS FOR CALIFORNIA RESIDENTS ONLY
Urge Governor Newsom to Protect Wildlife from Super-Toxic Rat Poisons  
Across the state, super-toxic rat poisons (second generation anticoagulant rodenticides) are devastating California's native wildlife. These persistent – "one feeding kills" – poisons are first consumed by rats, who in turn are consumed by other wildlife, resulting in secondary poisoning and contamination of the food chain. Animals who consume these poisons suffer from uncontrolled bleeding and ultimately may die.
Mountain lions are in particularly grave danger — several isolated Southern California mountain lion populations are close to local extinction. In recent months, several mountain lions were found dead in the Santa Monica Mountains with multiple super-toxic rat poisons found in their bloodstreams. These animals are being decimated by rodenticides — with at least five deaths conclusively caused directly by these poisons, including P-30, who died in September 2019. Immediate state intervention is critical to prevent these populations' extinctions.
Unfortunately, mountain lions are far from the only wildlife victims — dozens of species are being directly harmed by anticoagulant rodenticides including golden eagles, Humboldt martens, San Joaquin kit foxes, Pacific fishers, bald eagles, black bears, and raccoons. Action at the state level is desperately needed to protect California's wildlife from imminent harm.
Sign your name to an open letter to Governor Newsom urging him to immediately place a statewide moratorium on the use of second-generation anticoagulant rodenticides — the most toxic class of rat poisons — except in cases of public health or ecosystem emergencies.
These animals' suffering is unnecessary and preventable. Please ask Governor Newsom to act now — California's wildlife can't wait any longer.
THIS ACTION IS FOR CALIFORNIA RESIDENTS ONLY.
Join the Animal Legal Defense Fund's email list to stay up to date on lawsuits, legislation, and regulations affecting animals.
Sign Up Now
Related
Court dismisses International Fur Trade Federation's complaint in victory for animals

Reforms emphasize coexistence with coyotes and other wildlife

Animal protection organizations allowed to intervene in International Fur Federation lawsuit challenging ordinance's constitutionality