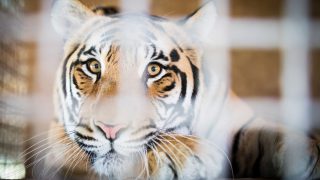 Update from the Legislative Affairs Program
It has been a busy year for Animal Legal Defense Fund's Legislative Affairs Department! Just in the first three quarters of 2015, we were involved in lobbying efforts on more than three dozen animal-related bills in twenty-eight states to protect companion animals, animals used in laboratory testing, exotic animals exploited for entertainment, threatened and endangered species, animals who are hunted for their skins and parts, and animals who are cruelly confined and killed on factory farms.
As state legislative sessions came to a close this summer, there was a lot of last minute scrambling to help pass important animal protection legislation and defeat bills that would be harmful to animals.
We were also busy responding to critical federal regulatory matters that required quick but thorough input to agencies like the U.S. Department of Agriculture and the U.S. Fish and Wildlife Service. Here's just a little bit of what we were up to this summer!
In June, the Legislative Affairs Program submitted detailed comments to the U.S. Fish & Wildlife Service (FWS) opposing the application by Mitch Kalmanson, a notorious tiger exhibitor, for an Endangered Species Act permit to import six tigers from a circus in Mexico in order to use the animals in circuses in the U.S.
In her detailed legal analysis, Animal Legal Defense Fund's Legislative Counsel Carney Anne Nasser pointed out to FWS that issuance of the permits would be unlawful for numerous reasons, including Kalmanson's history of disregarding minimum standards of care prescribed by the federal Animal Welfare Act (AWA), and his proposed use of the endangered animals for commercial entertainment acts that have no relationship to legitimate species conservation.
After Animal Legal Defense Fund submitted its vigorous opposition to permit issuance, FWS announced in July that it had denied Kalmanson's permit request.
In August, we prepared and provided extensive comments in support of the Petition for Rulemaking Animal Legal Defense Fund had previously submitted with New England Anti-Vivisection Society, North American Primate Sanctuary Alliance, and the Laboratory Primate Advocacy Group to the U.S. Department of Agriculture urging the agency to amend the AWA regulations to ensure enhanced protections for primates used in experiments.
The AWA regulations currently lack any specific, enforceable, standards for the care of primates who are forced to endure laboratory testing, including a prohibition on the senseless and cruel maternal deprivation experiments that Animal Legal Defense Fund's litigation team is working hard to stop.
Also in August, the fruits of Animal Legal Defense Fund's legislative assistance and testimony paid off when the City of Austin, Tex. passed a ban on the use of bullhooks and other cruel devices used to inflict or threaten to inflict punishment on elephants used for entertainment. Austin joined dozens of localities such as Los Angeles, Calif., Oakland, Calif., Fulton County, Ga., Hallandale Beach, Fla., that have already instituted similar bans on the use of cruel weapons used to force elephants to perform.
In September, Legislative Counsel Carney Anne Nasser flew to South Florida to participate in a press conference with U.S. Congressman Ted Deutch (FL-21) in support of H.R. 2293, the federal Preventing Animal Cruelty and Torture (PACT) Act, which Deutch introduced with bill co-sponsor Lamar Smith (TX-21).
The PACT Act would close a loophole in the existing federal criminal law prohibiting the creation and distribution of crush videos (known as the Animal Crush Video Prohibition Act of 2010) by elevating the underlying acts of animal cruelty depicted in crush videos to federal crimes as well. Under existing federal law, the creation and distribution of crush videos are federal crimes but the underlying acts of animal torture are state law crimes.
Elevating the underlying acts of torture to federal crimes as well would help close a loophole that help streamline federal prosecutions for these depraved acts. The importance of the PACT Act was underscored again in September 2015 when a woman in Houston, Tex. pleaded guilty to producing and distributing crush videos following a federal prosecution in the Southern District of Texas.
Also in September, Carney Anne attended the Texas Humane Legislation Network (THLN) annual conference in Dallas with William Rivas-Rivas, Animal Legal Defense Fund's Director of Philanthropic Gifts.
Animal Legal Defense Fund has had a relationship with THLN for years, with roots that go back nearly a decade when Carney Anne co-chaired the Dallas Association of Young Lawyers Animal Welfare Committee with THLN President-elect Shelby Bobosky.
Animal Legal Defense Fund's Legislative Affairs Program worked alongside with THLN this past legislative session and provided testimony and other support for THLN's victories passing H.B. 983, which requires all Texas peace officers to participate in canine encounter training, and defeating S.B. 987, a dangerous piece of legislation that would have carved out an exemption from the Texas Dangerous Wild Animal Regulations for members of the Zoological Association of America (ZAA)—a recently-formed trade group that promotes the private ownership of exotic animals and provides "accreditation" to roadside zoos (not to be confused with the century-old Association of Zoos and Aquariums).
Even though many state legislative bodies are in recess, Animal Legal Defense Fund's Legislative Affairs Program is not slowing down as we enter the final quarter of 2015. We have been busy standing up for captive orcas by lobbying the California Coastal Commission to ensure that SeaWorld San Diego is not granted a permit to expand its tanks unless the Commission imposes a strict prohibition on further captive breeding or acquisition of additional orcas at the San Diego marine entertainment park.
Carney Anne will be joined by Animal Legal Defense Fund colleagues Lindsay Larris, Chris Berry, and Kelsey Eberly, at the hearing on October 8, 2015, where the Commission will hear oral testimony and make a final determination on the issue.
In the coming weeks, Clark County (greater Las Vegas area), Nev. Commissioners will be voting on an ordinance that would impose permit requirements on private owners of tigers, lions, chimpanzees, and other dangerous wild animals.
Carney Anne has been working with the County on proposed ordinance language for a few years, and this legislation is critically important to a community that has had numerous dangerous animal escapes in recent years—particularly since Nevada is one of six remaining states that have not yet enacted any state-level oversight on keeping dangerous exotic animals as pets.
As acknowledged by the American Bar Association, the best way to ensure public safety and animal welfare is by banning the private ownership of dangerous exotic animals; however, the permit program that Clark County Commissioners will vote on in November 2015 is an important step in the right direction.
Please stay tuned for more exciting updates as Animal Legal Defense Fund's Legislative Affairs Program closes out another productive year of advancing the legal interests of animals and protecting them from harmful legislation!
Related
Proposed rule would maintain an unnecessarily complicated and confusing process for children to get access to plant-based milk

Recommendations aim to decrease risk of zoonotic disease spread, animal escapes and attacks, and psychological and physical harm to the animals

The bill helps end the rampant abuse of tigers and other big cats in captivity by banning private possession