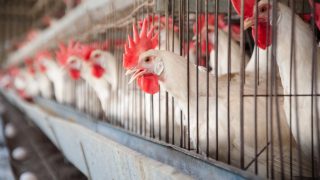 Tyson, Repeat OSHA Violator, Gives its Workers Lip Service Instead of Safer Conditions
Facing a federal inspection and public scrutiny after ALDF's undercover investigator documented egregious violations of workplace health and safety regulations in one of its chicken slaughterhouses, Tyson Foods recently announced a "pilot project" to "improve workplace safety communication, awareness and practices." Given the overwhelming evidence (such as the reports issued by Oxfam America, Human Rights Watch, Southern Poverty Law Center, and the GAO) that working conditions and line speeds in poultry slaughter and processing are cruel to workers and to animals, Tyson's response—to improve communication—falls far short of meaningful reform.
Inside a Tyson Chicken Plant
In the summer of 2015, Autumn* worked in the "live hang" department of a Tyson poultry slaughter plant located in Carthage, Texas, while documenting numerous instances of animal cruelty, food safety violations, and workplace safety hazards.
She was put on the line after receiving no task-specific training. Just follow the other hangers, they told her. When the birds arrived, transport workers would dump them from crates onto the conveyor belt. As many as 150 chickens piled on top of one another. As the birds came down the line, she and her coworkers would frantically hang. Despite being in great physical shape, Autumn was unable to meet the grueling pace demanded by Tyson of hanging 35 live birds per minute. After just one week, she began suffering carpal tunnel syndrome in both of her wrists. The "protective" wear provided by Tyson did not prevent chicken feces, dirt, dust, and dander from getting into her eyes and mouth. She developed an eye infection, causing puss discharge from her eyes. She suffered cuts on her skin that became infected, and from extreme heat abrasion on both of her arms, which caused a painful, red rash.
Tyson Undeterred by Repeat Violations
Over the years, OSHA has repeatedly cited Tyson owned-and-operated slaughter and processing plants for the same basic safety violations. For example:
As with these past citations, Autumn documented repeat violations at the Carthage plant where Tyson failed to provide protective gear and failed to properly train her before putting her in a highly dangerous job. Indeed, the same plant settled violation notices with OSHA in 2011 after OSHA documented nearly 100 incidences of inadequate eye and face protection.
There's no doubt that meat and poultry processing is an inherently dangerous job, but the risk to workers is unjustifiable when it is the product of systemic corporate indifference to the welfare of its employees and disregard of the most basic, common sense precautions. Tyson's workers deserve more than lip-service responses to well-documented dangers.
In response to ALDF's complaint filed with OSHA documenting workplace safety violations at Tyson's Carthage plant, the agency conducted an on-site inspection on September 21, 2015. At the time of this post, the agency's findings have not yet been released publicly. ALDF will be following up on the complaint and inspection and has submitted a Freedom of Information Act request for the results of that inspection.
* The investigator's identity is protected for her safety.
Related
The U.S. Court of Appeals for the Fourth Circuit handed an important win to plaintiffs in a lawsuit challenging North Carolina's Ag-Gag law, ruling that undercover investigations and whistleblowing are considered newsgathering activities protected by the First Amendment.

Graphic images of wound are posted on Tik-Tok by an employee of Gator Park — a facility owned and operated by Jason Clay.

Public interest coalition celebrates another win against unconstitutional statute barring undercover investigations at factory farms