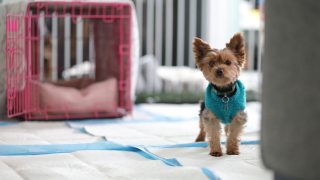 Short Film Reveals the Cruelty and Pervasiveness of Puppy Mills as New York and other Jurisdictions Pass and Support Retail Sales Bans
Actress Christian Serratos narrates the Animal Legal Defense Fund film advocating for an end to puppy mills
Contact: media@aldf.org
SAN FRANCISCO — The Animal Legal Defense Fund released a short film narrated by The Walking Dead actress and animal advocate Christian Serratos which exposes the reality behind large-scale commercial dog breeding operations, regularly referred to as puppy mills. The film follows a 5-year-old, five-pound Yorkshire terrier named Tig, who was relinquished to a rescue group by a puppy miller in Pennsylvania due to the high mortality rate of her puppies. After being placed in a loving home, Tig is given the time and space she needs to learn how to be a dog — experiencing her first dog bed, her first steps on grass, and her first family.
The film is available at aldf.org/tig.
The film's release coincides with efforts from the Animal Legal Defense Fund and advocates urging New York Governor Kathy Hochul to sign the Puppy Mill Pipeline Act, A.4283/S.1130, a law that would prohibit the sale of puppies, kittens, and rabbits in retail stores — sourced from large-scale commercial breeders. Instead, pet stores would be encouraged to offer animals available for adoption from animal shelters and rescue groups. More than 400 cities and counties, as well as four states — California, Maryland, Maine, and Illinois — have passed such laws since 2011.
"Puppy mills focus on maximizing profits over the welfare of animals languishing in cramped and unsanitary conditions while concealing their inhumane treatment at these facilities from potential buyers," says Animal Legal Defense Fund Executive Director Stephen Wells. "Puppy mills know consumers would not support such cruel conditions."
"When a person brings a dog into their family, they want to believe the animal came from a humane source, but far too often, the dogs being sold on a variety of platforms come from puppy mills. Puppy mill operators and pet stores will routinely go so far as to prevent people from seeing the animals' true living conditions and to provide fraudulent paperwork on their health and origins," says actress Christian Serratos. "The Animal Legal Defense Fund is using a number of legislative approaches to address the issue of puppy mills."
The goal of puppy mills is to produce the largest number of puppies as quickly as possible, without consideration of genetic health or the care of the animals. The dogs found in puppy mills are generally kept in crowded, unsanitary conditions. They often lack good food, clean water, and veterinary care. The mother "breeder" dogs may give birth to multiple litters per year throughout her adult life. They, and aging father dogs, will regularly be abandoned or killed when they are no longer "useful" to their breeders. These puppies are then couriered (typically by van or truck) to pet stores in other states, subjecting the puppies to stressful multi-day road trips.
In December 2021, the Animal Legal Defense Fund filed a class-action lawsuit under the federal anti-racketeering statute (RICO) against a network of individuals and businesses who conspired with California pet stores to sell puppy mill dogs misrepresented as "rescues." The suit alleges that Midwest puppy mill broker and its owners funneled dogs through fake animal rescue organizations and pet stores to profit off of puppy mill dogs despite California's ban on such sales.
Puppy mill operators maximize their profits by producing large numbers of puppies as quickly as possible. As a result, unsanitary conditions, disease, and neglect are rampant. Sign our pledge to boycott puppy mills. Together we can end this cruel industry.
Sign Petition
Related
Goldie's Act would ensure the USDA does its job to protect dogs in federally licensed puppy mills

Alternative sentencing program in Fulton County, Georgia pairs shelter dogs with criminal defendants to offer both training and a second chance

Predatory financing law bans loans that often trap borrowers with high interest rates