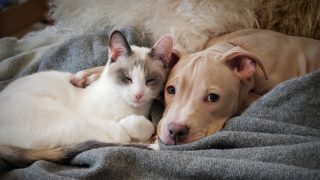 Third Year in a Row: New Mexico Ranked Worst State for Animal Protection Laws
2022 U.S. State Animal Protection Laws Ranking Report Released
Contact: media@aldf.org
SAN FRANCISCO — For the third year in a row, New Mexico ranks as the worst state for animal protection laws according to the annual U.S. Animal Protection Laws Ranking Report published by the Animal Legal Defense Fund, the nation's preeminent legal advocacy organization for animals.
The longest-running and most authoritative report of its kind, the 17th annual year-end Rankings Report (2022) assesses the relative strengths and weaknesses of each U.S. state's and territory's animal protection laws, and ranks them accordingly.
New Mexico is followed by Mississippi (49), Alabama (48), Idaho (47), and Utah (46) rounding out states with the weakest animal protection laws. For the third year in a row Maine maintains its first-place rank — followed by Illinois (2), Oregon (3), Colorado (4), and Rhode Island (5).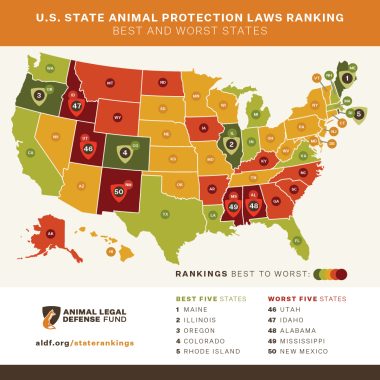 New Mexico earned its lowest spot in the rankings because state lawmakers have yet to pass a number of important, and increasingly universal, protections. For example, New Mexico is one of just two states with no prohibition on sexual assault of animals. Additionally, New Mexico's legal definition of the term "animal" is severely limited – meaning there are large categories of animals who are completely unprotected by the state's animal cruelty laws. New Mexico also does not have any law explicitly allowing animals to be included in domestic violence protection orders.
Laws allowing animals to be included in protection orders was a new trend highlighted in the 2022 Rankings Report. Courts may issue protection orders, more commonly known as restraining orders, to survivors of domestic violence in order to protect them from their abusers. Sadly, animals are too often used as tools of domestic violence; offenders with threaten to harm or kill animals in order to control or psychological abuse the animal's guardian. Laws which permit animals to be included in protection orders allow survivors of domestic violence to safety flee their abusers, while also protecting their animals. Jurisdictions which enacted or strengthened existing animal protection orders in 2022 include Connecticut, Kentucky, Utah, Washington, the District of Columbia, and Puerto Rico.
"Animal protection laws are critical to protecting some of the most vulnerable members of our society who are often not treated with the consideration they deserve under the law," says Animal Legal Defense Fund Chief Programs Officer Kera Melrose. "The Animal Legal Defense Fund's annual Rankings Report provides a consistent measurement of legislative progress for animals nationwide and state to state — regardless of where a state falls in the ranks, there is always room for improvement."
The rankings are based on a comprehensive review of each jurisdiction's animal protection laws, including over 3,000 pages of statutes. This is the longest-running and most authoritative report of its kind and tracks which states are taking animal protection seriously.
The full report, including details about each state, is available at www.aldf.org/staterankings.
Join the Animal Legal Defense Fund's email list to stay up to date on lawsuits, legislation, and regulations affecting animals.
Sign Up Now
Related
The gift of more than $1 million will fund the program over the next four years

This action is for U.S. residents only.

The victory follows the passage of a factory farming law and efforts to curtail the construction of new mega dairies in the state