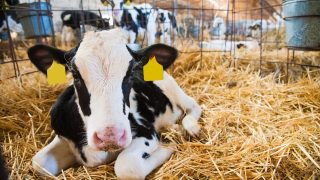 The Animal Legal Defense Fund, PETA File for Summary Judgment in Utah 'Ag-Gag' Case
Animal Rights Groups Stand Up for the First Amendment and Transparency and Seek to Repeat Victory from Idaho 'Ag-Gag' Case
Contact: media@aldf.org
Salt Lake City, Utah — Yesterday the Animal Legal Defense Fund, PETA, and Salt Lake City resident Amy Meyer filed a motion for summary judgment in their challenge to Utah's notorious Ag-Gag law, seeking to have the law formally struck down as unconstitutional.
This lawsuit was the first in the nation to challenge 'Ag-Gag' laws, which criminalize undercover investigations by animal rights activists and journalists at factory farms and slaughterhouses. The lawsuit was filed in 2013 alleging that Utah's Ag-Gag law violates the constitutional guarantees of free speech and equal protection.
After filing this challenge to the Utah law, the Plaintiffs also challenged Idaho's Ag-Gag law. The Idaho case was swiftly and decisively resolved in favor of the Plaintiffs, with the federal court holding that Ag-Gag laws like those in Utah and Idaho "suppress speech by undercover investigators and whistleblowers concerning topics of great public importance: the safety of the public food supply, the safety of agricultural workers, the treatment and health of farm animals, and the impact of business activities on the environment."
Plaintiffs are now seeking a formal declaration that the Utah Ag-Gag law is also unconstitutional. It has already been determined by a federal judge that laws impeding
whistleblowing
in the realm of food production run afoul of the constitution, and the summary
judgment
motion filed today is intended to formally extend this reasoning to Utah.
"The Utah Ag-Gag law, no less than the Idaho one, is an affront to the First Amendment's promise of free speech, to say nothing of our societal commitment to free and open debate and transparency," says Animal Legal Defense Fund's executive director, Stephen Wells.
"It's egregiously unconstitutional to allow Big Agriculture to keep cruelty to animals a secret," says PETA Director of Litigation Matthew Strugar. "The Idaho courts have spoken, and now it's time for Utah to confirm that PETA and others have a right to expose criminal abuse."
Related
Meat and dairy alternatives can use common naming conventions in the state without fear of prosecution

Public interest coalition cheers major victory in lawsuit to strike down law designed to quash undercover investigations

Today, a coalition of public interest groups, led by the Animal Legal Defense Fund, filed a lawsuit challenging the constitutionality of Iowa's new Ag-Gag law — a law that is substantively similar to an Iowa law struck down by the same federal court.