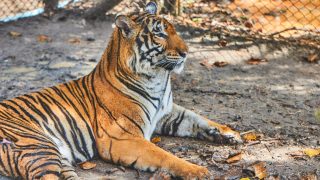 The Animal Legal Defense Fund Calls on OSHA and USDA to Impose Maximum Penalties in Palm Beach Zookeeper's Death
Death Could Have Been Prevented with Appropriate Safety Measures
For Immediate Release
Contact:
pjones@aldf.org
Palm Beach, FL — The Animal Legal Defense Fund is calling on the Occupational Safety and Health Administration (OSHA) and the United States Department of Agriculture (USDA) to immediately investigate the tragic incident at the Palm Beach Zoo, and impose the maximum penalty to ensure an end to these preventable deaths in zoos.
As long as employees are allowed to work in dangerously close proximity to tigers, elephants, and other dangerous animals, a significant risk of serious injury or death persists.
The Animal Legal Defense Fund has previously called upon OSHA to enact specific standards governing workplace safety for employees who work with dangerous wild animals. Deaths and serious injury are preventable, and safety regulations are an important piece of keeping zookeepers and employees who have close contact with dangerous animals safe.
The Animal Legal Defense Fund again urges OSHA to take proactive steps to prevent these sorts of incidents, before another preventable tragedy occurs.
Injuries and deaths due to incidents with big cats are not uncommon. Since 1990 there have been at least 24 deaths—and 265 injuries—caused by captive big cats in the United States. These attacks, and scenarios where an animal escapes, have also resulted in the deaths of over 128 big cats—many of whom were endangered species.
More Information
The Animal Legal Defense Fund's complaint letter to OSHA/USDA is available upon request.
Related
Proposed rule would maintain an unnecessarily complicated and confusing process for children to get access to plant-based milk

Recommendations aim to decrease risk of zoonotic disease spread, animal escapes and attacks, and psychological and physical harm to the animals

The bill helps end the rampant abuse of tigers and other big cats in captivity by banning private possession