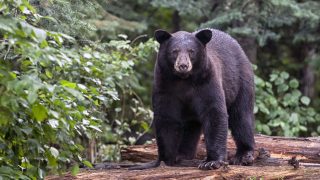 Take Action for New Jersey's Black Bears
This action is CLOSED.
It's no secret that the New Jersey black bear hunt is one of the most controversial.
The hunt begins on October 12th — but there is still a chance to stop the killing. Governor Murphy has the authority to suspend the hunt by Executive Order.
A supermajority of New Jersey residents opposes this deeply cruel event, where hunters are permitted to bait animals with sugary food and even chase bears onto private lands where they can be killed. But not only is the black bear hunt inhumane and unnecessary, allowing the 2020 bear hunt to continue puts residents of the state at an unnecessary health risk during a global health crisis.
Being one of only two states that allows — and even encourages — the trophy hunting of bear cubs and their mothers, there will likely be many hunters entering the state, many of whom may not adhere to the state's strict guidelines put in place to combat COVID-19.
Allowing the hunt to continue is not only counterproductive, but contradictory to Governor Murphy and his administration's recent actions to protect public health.
Join the Animal Legal Defense Fund's email list to stay up to date on lawsuits, legislation, and regulations affecting animals.
Sign Up Now
Related
The court's decision ensures Special Memories Zoo is permanently closed following Animal Legal Defense Fund lawsuit

For years, captive wild animals have suffered in the care of traveling zoo operator Robert Sawmiller. On December 9, 2020 two wolves and a Labrador named Fancy were rescued and transported to sanctuary through legal action brought by the Animal Legal Defense Fund.

The Animal Legal Defense Fund — with the assistance of local counsel named Taylor Waters, U.S. Marshals, and the Auglaize County Sheriffs Office — executed a court order, seizing three animals from infamous wild and domestic animal breeder and broker Robert Sawmiller near Wapakoneta, Ohio.