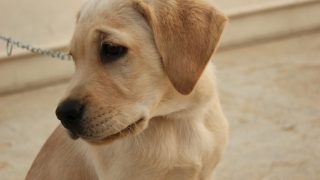 We need your help to ensure that SB 1024, the Animal Welfare and Violence Intervention Act of 2018, becomes law! The bill passed the Senate Public Safety Committee but without your support, it won't get through the next steps of the legislative process.
Animal abusers are five times more likely to harm humans. The Animal Legal Defense Fund is working with California State Senator Scott Wilk to address the link between animal cruelty and violence against humans by enacting SB 1024, the Animal Welfare and Violence Intervention Act of 2018.
Animal abuse is among the most misunderstood and undercharged crimes in our society. Currently, there are limited sentencing options, and judges have little power to ensure animal abusers receive appropriate treatment or education. In California, fines, limited jail time, probation, and forced animal surrender are about the only options. None of these options adequately address the underlying causes of animal cruelty.
The bill would require all convicted animal abusers to complete an approved animal offender education course and require offenders convicted under more serious animal abuse statues – like those involving malicious violence – to undergo a mandatory mental health evaluation and possibly ongoing counseling for up to one year.
Please take a few minutes today to call the legislators in the Senate Appropriations Committee (telephone numbers below) and politely ask them to support this important measure.
"Hi, I live in _____ (name of Senator's) district (if you don't live in their district, simply say 'I am a California resident'). I am calling to ask him/her to support SB 1024, the Animal Welfare and Violence Intervention Act of 2018. Abusers of animals are five times more likely to harm humans. Legislation addressing the link between animal abuse and violence against humans is essential to protecting Californians."
Thank you for protecting California's animals!
Senate Appropriations Committee Contact Information:
Senator Ricardo Lara (Chair) (Long Beach) – (916) 651-4033
Senator Patricia Bates (Vice Chair) (Laguna Niguel) – (916) 651-4036
Steven Bradford (Los Angeles) – (916) 651-4035
Jerry Hill (South San Francisco) – (916) 651-4013
Jim Nielson (Sacramento Valley) – (916) 651-4004
Scott Weiner (San Francisco) – (916) 651-4011
Related
As the Animal Legal Defense Fund combats dogfighting by working with state officials to create stronger laws and more effective penalties for those who engage in this crime, we're also hard at work to ensure the best possible outcomes for dogfighting victims.

The Animal Legal Defense Fund, the nation's preeminent legal advocacy organization for animals, and Humane Rescue Alliance (HRA) are offering a $10,000 reward for information leading to the arrest and conviction of the person or people responsible for the abandonment and stabbing of a senior-aged dog named Ladybell on July 12, 2020.

Earlier this summer, the driver of a pig transport truck struck and killed longtime animal advocate Regan Russell. The circumstances regarding her death are not fully known to the public, but top to bottom, the animal agriculture industry is rarely held accountable.