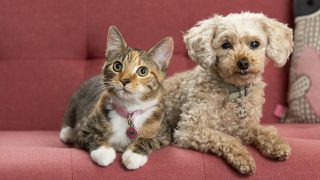 State Animal Protection Laws Ranked: Maine is #1, New Mexico #50
Animal Legal Defense Fund Publishes 2021 State Rankings Report
Contact: media@aldf.org
SAN FRANCISCO, CA — The Animal Legal Defense Fund, the nation's preeminent legal advocacy organization for animals, has released the 16th annual year-end U.S. State Animal Protection Laws Rankings Report (2021), rankings the animal protection laws of all 50 states.
For the second year in a row Maine maintains its first-place rank — followed by Illinois (2), Oregon (3), Colorado (4), and Rhode Island (5). New Mexico remained in 50th place, with Idaho (49), Mississippi (48), Alabama (47), and Utah (46) rounding out states with the weakest animal protection laws.
The most improved jurisdictions in 2021 were Hawaii (27) and Guam (ranked first out of the six U.S. territories). Both enacted comprehensive animal protection legislation in 2021. Hawaii was previously ranked 39th but rose 12 ranks by criminalizing sexual assault of animals and requiring veterinarians to report suspected animal cruelty. Guam was previously ranked fourth out of the six inhabited U.S. territories, but in 2021 enacted a comprehensive overhaul of its animal protection laws — relying heavily on the Animal Legal Defense Fund's Model Animal Protection Laws — enabling Guam to snag the first-place rank among U.S. territories.
A new national trend in 2021 was the enactment and strengthening of veterinary reporting laws and cross-reporting laws. Such laws either require or explicitly permit veterinarians or social service professionals to report suspected animal cruelty. In 2021 four states and one territory enacted veterinary reporting or cross-reporting laws. Another new national trend was the enactment of laws addressing certification and training of humane officers. Only 16 states have laws specifying both training standards and enforcement powers for humane officers — laws that are necessary to ensure proper enforcement of animal protection laws. Thankfully that number is trending upward, with three states — Maryland, Ohio, and Vermont — enacting comprehensive humane officer laws in 2021.
"It is vital that we continue to strengthen our animal protection laws as animals are some of the most vulnerable members of society and are too often subjected to cruel mistreatment," says Animal Legal Defense Fund Executive Director Stephen Wells. "The Animal Legal Defense Fund's annual Rankings Report helps legislators and advocates identify weak points in their states' laws — and highlight strong models that can be used to address those weaknesses."
The rankings are based on a comprehensive review of each jurisdiction's animal protection laws, including over 3,000 pages of statutes. This is the longest-running and most authoritative report of its kind and tracks which states are taking animal protection seriously.
The full report, including details about each state, is available at www.aldf.org/staterankings.
Join the Animal Legal Defense Fund's email list to stay up to date on lawsuits, legislation, and regulations affecting animals.
Sign Up Now
Related
The Animal Legal Defense Fund has helped defend California's right to enact the strongest farmed animal protection law in the country

Proposed rule would maintain an unnecessarily complicated and confusing process for children to get access to plant-based milk

Cows were killed in Madison, Brazos, and Robertson Counties, Texas.