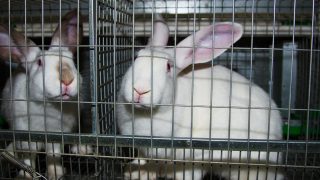 Scales Tilt Toward Justice for Animals Abused in Research Labs
In late May, Santa Cruz Biotechnology, a large supplier of animal subjects for laboratory testing, reached a record-setting settlement with the U.S. Department of Agriculture (USDA), agreeing to pay a $3.5 million penalty and forfeit its animal dealer license. The verdict followed years of contention and litigation over allegations that goats and rabbits at its Santa Cruz facility had been mistreated. The USDA cited "repeated failure to provide minimally adequate and expeditious veterinary care and treatment to animals."
The $3.5 million penalty reached with the USDA is more than ten times the previous highest penalty assessed under the Animal Welfare Act (AWA). This historic USDA penalty may signify a meaningful shift in the USDA's willingness to actively pursue and prosecute corporate animal abusers.
Meanwhile, the Animal Legal Defense Fund's litigation against Santa Cruz Biotech, on behalf of Stop Animal Exploitation Now (SAEN), is still underway. A judge had dismissed our case in light of the USDA's enforcement action, but recently the court heard oral argument in our appeal of that dismissal. Because our lawsuit is based on California state animal cruelty laws, a decision would apply to all animals, including those that the AWA excludes, including rats and mice. Thus, the Animal Legal Defense Fund and SAEN's lawsuit would be the only remaining bulwark against Santa Cruz Biotechnology's callous cruelty to animals left out of federal law. We expect to receive a ruling this summer.
From one perspective, we can see the USDA's multi-million dollar penalty both as a vindication of our work with SAEN to end the commercialization of abuse and as a warning signal to other lab-animal companies doing the same. From another perspective, we recognize that the terms of the settlement reduced the original USDA fines dramatically, perhaps by 90% or more. Such a bright moment of humane adjudication shouldn't be allowed to recede, but neither should it be heralded as an unqualified victory. It is without question a big step in the right direction.
Related
Animal Legal Defense Fund petition for rulemaking spurs reporting improvements: Forms will be revised to ensure AWA licensees maintain complete records of all animal deaths.

Graphic images of wound are posted on Tik-Tok by an employee of Gator Park — a facility owned and operated by Jason Clay.

The lawsuit alleges federally endangered and threatened animals such as the tigers, lions, and ring-tailed lemurs are receiving inadequate care at Tiger Creek