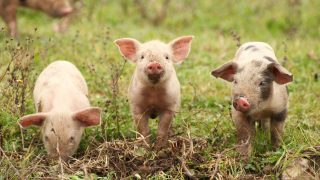 Student Chapter Promotes Meatless Monday: Tips from Pace Law School's Campaign
How Your SALDF Chapter Can Implement Meatless Monday
Begin by building a friendly relationship with school administration and food service management to enable collaborative discussion about the issue.
Start a Meatless Monday petition signed by students, faculty, and student organizations (health groups, environmental groups, social justice groups, etc.).
Determine specific goals and asks for the Meatless Monday campaign.
Engage in dialogue with your school's food service provider about goals for enacting a Meatless Monday campaign.
Come to an agreement with the food service provider on the scope of the plant-based options. You may initially agree to increase the meatless options, then work with the food service provider to provide more plant-based options.
Do a big "release" for Meatless Monday on opening day, possibly a table staffed by your SALDF chapter members with plant-based samples and information. You can include ALDF's Farmed Animals and the Law brochure and Meatless Monday posters, logos, and graphics.
Acknowledge and thank the food service provider publically.
Promote the Meatless Monday campaign after its initial launch, possibly through continuing to table or by hanging flyers.
Stay in continuous contact with food service provider and school management.
Meatless Monday at Pace Law School
The Pace Law School SALDF chapter (Pace SALDF) started their Meatless Monday campaign in 2013 after learning that many students at the law school were looking for more plant-based options from the cafeteria. To begin, Pace SALDF set up a meeting with our Student Services Office and discussed what we wanted to accomplish. We then set up a meeting with our food service provider, Chartwells, to work together to accomplish our goal. Chartwells agreed to preliminary terms of increasing the plant-based options and, in exchange, Pace SALDF agreed to table outside the cafeteria on Mondays during lunch to build awareness of the Meatless Mondays campaign. Pace SALDF also started a petition in support of increasing plant-based options in the cafeteria.
After a successful first year, Pace SALDF sat down with Chartwells and our Student Services Office to further discuss ways to expand the plant-based options. We also discussed increasing meat-free options on other days, not just Mondays. Our next step is to increase the animal product alternatives, such as Daiya dairy-free cheese and Tofurky meat substitutes.
Helpful Tips
Dialogue is important. Staying in contact with the administration and the food service provider will help keep the campaign running. Also, having documented support from the student body will go a long way. Food service providers are running a business and want to make a profit, so it may be necessary to show that more plant-based options are desired by the larger law school community. Also, it may be possible to attach the meatless campaign to another campaign already in place within the food service provider's business plan, for example, a cage-free egg campaign or organic, sustainability campaign. Promotion and building awareness will help give the campaign a far reach throughout the school. It may help to work with a larger organization, like the Animal Legal Defense Fund. Finally, persistence and organization is key!
Related
Long-time Miami resident asks Senators Marco Rubio and Rick Scott to co-sponsor the Big Cat Public Safety Act

Reforms emphasize coexistence with coyotes and other wildlife

After learning about orca captivity the troops made posters highlighting facts about captive orcas and encouraging others not to support businesses that exploit animals.