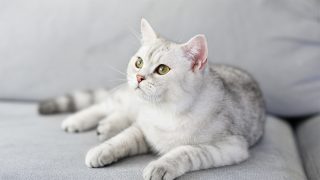 Reward of $5,000 Offered in Case of Cat Shot with Hunting Arrow
Reward Offered by Animal Legal Defense Fund for Information Leading to Arrest/Conviction
For immediate release:
Contact:
media@aldf.org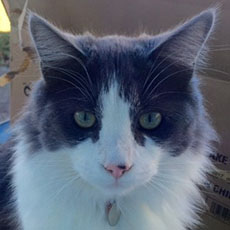 SONOMA COUNTY, Calif. — The Animal Legal Defense Fund, the nation's preeminent legal advocacy organization for animals—headquartered in Cotati, California, is offering a $5,000 reward for information leading to the arrest and conviction of the person or people responsible for shooting a 2-year-old grey and white cat named 'Steph' with a small-game hunting arrow.
On Wednesday, July 27, 2016, Steph's owners discovered him in Rohnert Park's E-Section, bleeding, with a puncture wound in his leg and a foreign object buried in his chest. Steph is believed to have suffered these injuries on Monday, July 25 or Tuesday, July 26, 2016. Steph's owners rushed him to a veterinarian, where the object lodged in his chest was revealed to be a small-game hunting arrow tip. Steph is receiving veterinary treatment following the arrow's removal and is expected to survive.
Under California law, any person convicted of maliciously and intentionally wounding an animal can be imprisoned for up to three years in county jail and/or fined $20,000 for felony animal cruelty. In California, it is at the district attorney's discretion whether animal cruelty is charged as a felony.
"This brutal attack on Steph is indicative of violence posing a risk to the community," said Stephen Wells, executive director of the Animal Legal Defense Fund. "The link between violence to animals and violence to humans is well documented. We are very glad the police are taking this matter seriously, and we offer our full support."
Studies show that those who intentionally abuse animals are five times more likely to commit crimes of violence against humans.
The Animal Legal Defense Fund urges anyone who has information about this case to come forward and help secure justice for Steph.
If you have information related to this incident, please contact the Rohnert Park Department of Public Safety at crimetips@rpcity.org or 707.584.2600. The Rohnert Park Department of Public Safety is also accepting anonymous tips in this case at 707.584.COPS (707.584.2677).
Related
Ask your state legislators to support a bill that would prohibit people convicted of animal abuse from possessing animals for at least five years after their release from custody.

Ask your state legislators to provide an opportunity for dogs and cats used in research to find loving homes once their time in a research laboratory has come to an end by supporting An Act Protecting Research Animals.

Reward for information leading to the arrest and conviction of the person or people responsible