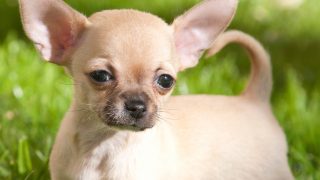 REWARD INCREASED: $1,000 For Information Regarding Chihuahua Found Drowned in Carrier
Reward for Information leading to the arrest and conviction of the person or people responsible
Contact: media@aldf.org
PORTLAND — The Animal Legal Defense Fund, the nation's preeminent legal advocacy organization for animals, is joining with the Oregon Humane Society and the Humane Society of the United States to offer a $1,000 reward for information leading to the arrest and conviction of the person(s) responsible for the death of a Chihuahua who apparently drowned in the Clackamas River in a locked pet carrier.
The dog, a brown and black unspayed young female, was wearing a collar and seemed to have been well-groomed and in good health prior to entering the water. Clackamas County Sheriff's Officers discovered her body at 11:00 am on Monday, December 18, 2017. Authorities believe the pet carrier in which the dog was locked was placed in the water near Springwater Road's Carver Bridge — either from the bridge itself or a nearby boat ramp.
Under Oregon law, placing a live animal in a river with the intention of causing the animal's death is a Class C felony, punishable by up to five years imprisonment and a fine of up to $125,000.
"Anyone who would choose to treat a defenseless dog with such cruelty is a threat not only to other animals, but to the entire community," said Stephen Wells, executive director of the Animal Legal Defense Fund. "We urge anyone who has information about this case to come forward and help the deceased dog get the justice she deserves."
Psychiatric and criminological research has established a clear link between cruelty to animals and a host of other violent behaviors toward humans.
If you have information related to this incident, please contact the Oregon Humane Society's Investigations Department at 503.285.7722, extension 214 or online at www.oregonhumane.org/report-cruelty/suspected-animal-cruelty.
Related
The Animal Legal Defense Fund announced that a settlement agreement has been reached with the Animal Kingdom pet store in a high-profile lawsuit over a puppy laundering scheme to unlawfully circumvent the California "retail pet sale ban" — a law that bans the sale of dogs from commercial breeders, commonly called puppy mills.

This week, the Superior Court of California in Solano County found the owner of California Carolina Dogs, a puppy mill located in Vallejo, liable for violating the Polanco-Lockyer Pet Breeder Warranty Act following a lawsuit filed by the Animal Legal Defense Fund on behalf of Caru SPCA.

As shelter-in-place orders are given across the nation, there is a growing concern that family violence will be on the rise.